Firefighter dies delivering flood aid, as Oklahoma, Texas authorities conduct water rescues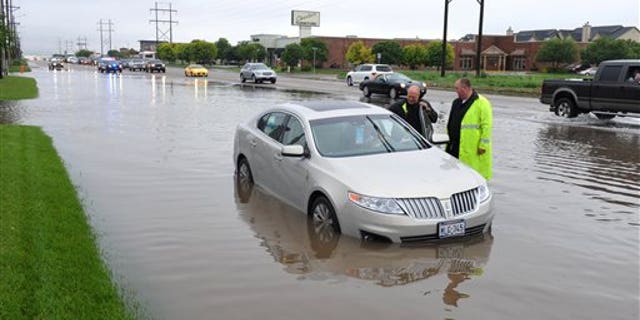 An Oklahoma firefighter has died after delivering aid as heavy rain caused flooding throughout Oklahoma and Texas.
Officials told Fox 23 that the body of a Claremore firefighter was found inside a storm drain early Sunday morning, two hours after he was reported missing.
Rogers County Emergency Management spokesman Thomas Hudson said the firefighter was standing in some water during the rescue, lost his footing and was swept away. The firefighter's name has not been released.
Firefighter Zane James stepped in to help him, but was also impeded by the flood. James suffered minor injuries.
Authorities in Oklahoma and Texas have been conducting numerous rescues of residents from flooding areas.
About 1,000 people have been evacuated in Central Texas and an evening curfew has been imposed as fast-moving floodwaters have consumed homes, sent downed power lines snaking into neighborhoods and turned roadways into tributaries.
In Hays County in Central Texas, sheriff's Lt. Jeri Skrocki tells The Associated Press that residents in the small community of Wimberley, about 40 miles southwest of Austin, are being urged to evacuate as the nearby Blanco River continues to rise at a record-high level.
The sheriff's office issued the curfew Sunday as a public safety measure. The public is asked to "restrict all unnecessary movement."
Skrocki says no serious injuries have been reported and that emergency shelters have been set up for residents at schools, a church, a nursing home and a community center.
San Marcos, Texas, city spokeswoman Kristi Wyatt said Sunday that shelters are open. Rescue crews used pontoon boats and a National Guard helicopter to pull people to safety overnight, and some were forced to flee to their rooftops.
Wyatt says some 1,000 homes are damaged across Hays County, a fast-growing area nestled between the San Antonio and Austin metro regions. Five San Marcos police vehicles were washed away and a fire station is flooded.
In Oklahoma, authorities in Cleveland and Comanche counties say in news releases that they also have assisted with rescues after flooding, including people trapped in their attics and on their roofs.
The Associated Press contributed to this report.