Fire strikes 92-year-old church on Chicago's South Side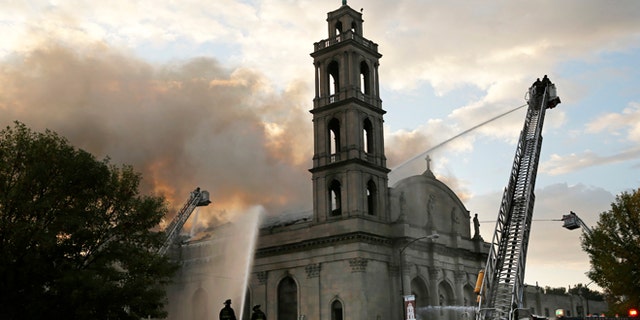 CHICAGO – About 150 firefighters responded when flames engulfed a 92-year-old church on Chicago's South Side.
The Shrine of Christ the King Church is just south of the University of Chicago in the Woodlawn neighborhood. The extra-alarm fire started about 6 a.m. Wednesday, sending flames through the roof. It was extinguished by about 9 a.m.
Chicago Fire Department spokesman Larry Langford says there are no reports of injuries but a shelter next door for women and children has been evacuated. Langford says part of the roof collapsed but firefighters tried to save the steeple.
Langford says the fire appears accidental. He says officials were trying to determine if it was related to work being done in the church.
The church was built in 1923. In 2004 a fundraising driver was launched for renovations.