Fire extinguisher factory destroyed in massive blaze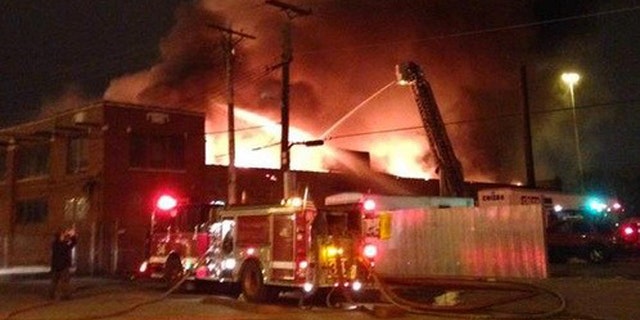 A Chicago factory that makes chemicals for use in fire extinguishers was destroyed in a massive blaze Thursday night.
The extra-alarm fire broke out in the Archer Heights section of the city just after 9 p.m. at the industrial building on W. 38th Street, according to MyFoxChicago.com.
Within 30 minutes, the building, which housed several businesses in addition to the chemical factory, was completely engulfed in flames.
More than 150 firefighters responded to the scene and it took them nearly three hours to extinguish the fire. The crews had difficulty getting enough water to the building because of a lack of hydrants and had to perform an "inline operation," in which six trucks were spaced out over a mile and connected by hoses to pipe water, the Chicago Tribune reported.
High flames from the blaze could be spotted from miles away and thick black smoke choked a nearby highway.
The fire caused the roof to collapse and the building was damaged beyond repair. No one was injured and authorities are investigating the cause of the blaze.
Click here for more from MyFoxChicago.com