Final farewell: Murdered Illinois officer to be laid to rest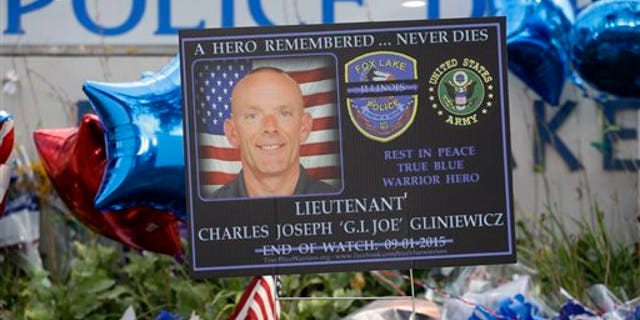 NEWYou can now listen to Fox News articles!
Family, friends and colleagues will gather Monday at an Illinois high school to honor Fox Lake Police Lt. Charles Joseph Gliniewicz, who was murdered last Tuesday.
Gliniewicz, 52, was found shot to death Sept. 1. Gliniewicz, a 32-year police veteran who was planning to retire at the end of the month, contacted dispatchers about three suspicious men he was pursuing and requested a second unit. Dispatchers soon lost contact with him, and backup officers found him about 50 yards from his squad car with a gunshot wound. He died soon after.
According to Fox 32, the public viewing for Gliniewicz -- affectionately called G.I. Joe -- will be held from 9 a.m. to 11 a.m. at Antioch High School, Gliniewicz's alma mater.
The funeral is scheduled to begin at the school at 1 p.m.
Following the funeral, a procession will run through downtown Fox Lake, past the police department where Gliniewicz served for more than three decades, it will continue past several high schools where he worked with students. It will end at Hillside East Cemetery in Antioch.