Final deliberations underway in James Holmes sentencing trial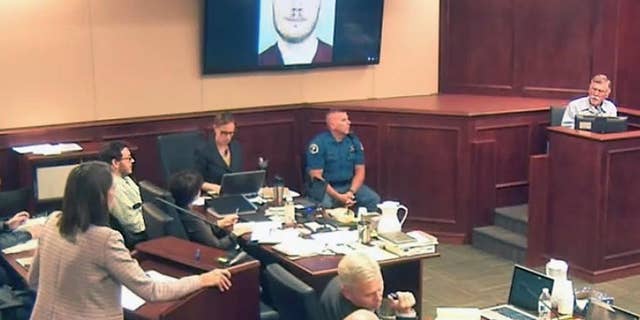 NEWYou can now listen to Fox News articles!
More than three years after James Holmes walked into a packed Colorado movie theater, pulled out a gun and killed 12 people and wounded 70 more, a jury is now deciding if Holmes should be sentenced to death.
Closing arguments took place Thursday in the final portion of the sentencing phase of Holmes' nearly four-month murder trial. The jury began deliberating Thursday afternoon for close to two hours before going home for the day. Deliberations will resume Friday at 8:30 a.m. local time.
Judge Carlos A. Samour Jr. read instructors to jurors, telling them their decisions "may well be the most serious and important decision you ever have to make," and asked the group to repeatedly to use "their own individual reasoned moral judgment" in making their decision.
The jurors must render a unanimous decision if Holmes is to be sentenced to lethal injection or given life in prison without the possibility of parole. If the jury is unable to reach a unanimous verdict, the judge will sentence Holmes to life in prison.
The district attorney in the shooting trial said Thursday that the only sentence that makes sense for the horrific deaths of 12 people three years ago is death.
District Attorney George Brauchler said that words and tears can't change the facts about James Holmes' planning and execution of the attack, turning the attention back to the victims as he made his final argument to jurors to reject a life sentence for Holmes.
During closing arguments, Brauchler played a 911 call made the night of the shooting, in which jurors heard screaming from inside the theater and rapid gunfire.
About 10 victims of the Colorado theater shooting and their relatives left the courtroom without speaking as the defense began its closing argument.
Defense attorney Tamara Brady kept speaking Thursday, but at least one juror turned her head and watched the group leave. Among them were Caren Teves, mother of victim Alex Teves, and Ashley Moser, who left in a wheelchair. Moser was paralyzed in the shooting and lost an unborn child as well as her 6-year-old daughter, Veronica Moser-Sullivan.
Teves said later that the mass exit wasn't planned, saying the group decided individually they didn't want to hear Brady.
Holmes stared ahead and swiveled slightly in his chair throughout the hearing while his parents, Robert and Arlene Holmes, sat quietly, holding hands.
The final portion of Colorado's three-part sentencing phase featured statements from family members of the deceased.
Samour Jr. repeatedly warned jurors before closing arguments not to be swayed by emotions, despite the highly charged testimony. "Your decision must reflect your individual reasoned moral judgment," he said.
But the family stories often left jurors in tears. A defense attorney said she saw seven jurors crying during Moser's testimony. The judge said he saw only two cry, and not excessively, dismissing concerns that their emotions would overwhelm the facts.
Caren Teves, who lost her firstborn in the shootings, told jurors her agonizing grief has devolved into constant pain. "It's God-awful. It's horrific. I miss everything about him," Teves said.
She glared at Holmes. He swiveled in his chair.
"I did not realize that grief turned into physical pain," she said. "It hurts your entire being, but it also gives you physical pain. I'm in pain every day."
Teves said the stress of her son's murder has accelerated her Parkinson's disease. He was athletic, intelligent and thoughtful, she said.
"He made you feel good about yourself," she said. "It was a very unique thing he could do: Whenever you left him, you just wanted to be a better person."
Nineteen-year-old Cierra Cowden laughed between her tears as she described her father's personality and the emotional wounds caused by his death. "I just feel like my family's broken," she said.
Gordon Cowden, a 51-year-old father of four, was the oldest killed. He was patient and charming, and so kind that he once stopped their car to herd a prairie dog to safety.
In the mornings, he would awaken his children with a kind of reveille, singing "dit-dit-dittle-ee," his daughter testified. "I used to dread that sound, but I'd like to hear it now."
Defense attorney Rebekka Higgs asked jurors not to "answer death with death," insisting that the crimes were caused by the psychotic breakdown of a mentally ill young man. Life without parole is the morally appropriate response, she said.
After a gunman attacked a movie theater audience in Tennessee and was killed by a SWAT team on Wednesday, Samour advised jurors to avoid all news until the Colorado trial is over. He didn't mention the Tennessee incident, but he told jurors to ignore reports of any incidents similar to the Colorado shootings.
Fox News' Jennifer Girdon and the Associated Press contributed to this report.