Fetuses found in Detroit warehouse owned by body broker, report says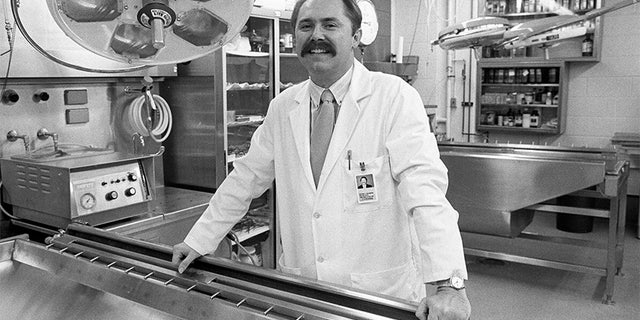 NEWYou can now listen to Fox News articles!
Four fetuses allegedly found preserved in liquid alongside human brain tissue were discovered by federal authorities in a Michigan warehouse in December 2013, Reuters reported Tuesday.
Agents reportedly found the fetuses during a raid of Arthur Rathburn's Detroit warehouse. Reuters reported that photographs government officials took during the raid show the fetuses "appear to have been in their second trimester."
PLANNED PARENTHOOD UNDER INVESTIGATION BY JUSTICE DEPARTMENT OVER SALE OF FETAL TISSUE
In some of the photos, according to the report, "a crime scene investigator in a hazmat suit uses forceps to lift a different fetus from the brownish liquid," while other pictures show an evidence identification marker sitting beside a fetus, in addition to "rotting human heads, some floating face-up in a plastic cooler."
The report notes it's unclear what Rathburn intended to do with the fetuses.
Rathburn, formerly a body broker — this is defined by Reuters as "a company that acquires dead bodies, dissects them and sells the parts for profit to medical researchers, training organizations and other buyers" — has been accused of cheating customers by allegedly selling them diseased body parts.
Rathburn has pleaded not guilty, and his trial is scheduled for January.
TRUMP ADMINISTRATION REPORTEDLY PROHIBITS CDC FROM USING WORDS LIKE 'TRANSGENDER,' 'FETUS'
Reuters, as part of its reporting for this story, were easily able to purchase human body parts from Restore Life USA, which Reuters said was in Blackburn's home state of Tennessee. For $900 plus shipping, the news organization bought two heads and a cervical spine from the body broker.
Rep. Marsha Blackburn, R-Tenn., who chairs the House Select Investigative Panel that probed the sale of fetal tissue, called the simplicity of the purchase "sickening" and, following the Reuters report, called for action regarding the human body trade, which she claimed has "lax oversight" and "lax enforcement."
Told of Blackburn's concerns, Reuters reported, Restore Life owner James Byrd said his company has "invited her to tour our facility and to review the policy and procedures we have in place."
GOV. KASICH SIGNS INTO LAW DOWN SYNDROME ABORTION BAN IN OHIO
The "actions depicted" in the photos in Reuters' report "are an insult to human dignity," Rep. Bob Goodlatte, R-Va., said, adding that if people "violate federal laws and traffic in body parts of unborn children for monetary gain," they should be "held accountable."
The FBI, which has been reportedly investigating Rathburn and other body brokers, declined to comment to Reuters.