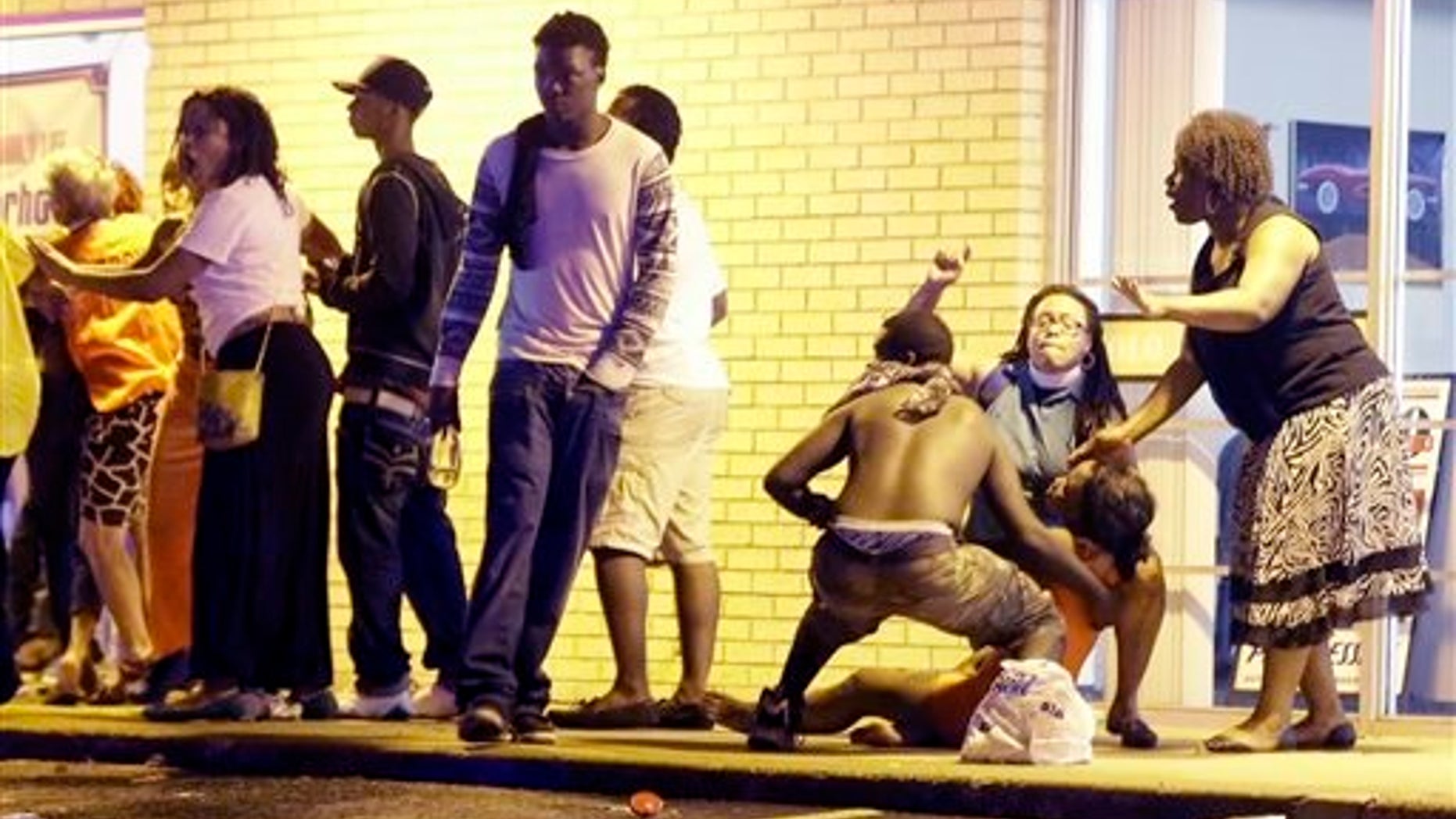 Protests to mark the one year anniversary of the death of Michael Brown in Ferguson, Missouri turned violent last night. Police say two groups got into a shootout and cops then intervened to stop the violence. One armed man was followed by police. After he opened fire on police, he was shot. He is in critical condition.
Two other teenagers were shot and injured in a drive-by shooting.
Today is being called a day of civil disobedience from coast to coast. Garrett Tenney reporting.
A shocking display of rudeness in Seattle over the weekend. Black Lives Matters protesters took over a Bernie Sanders event and forced him off the stage. We'll get into it with our media panel.
Donald Trump continues to dominate the newspapers and airwaves this morning. His debate performance, and his post-debate attacks on people in the media and on other candidates are causing a bit of a backlash. Still he's dominating polls of the GOP field so far, and will be a force to be reckoned with for some time.
Here's how Chris Cillizza in the Washington Post put it today, "Look, Trump's embracing of his id has, to this point, paid tremendous political dividends. He has successfully cast his willingness to say what he thinks at all times as a sort of anti-political correctness that quite clearly appeals to a decent chunk of the Republican electorate. Listen to any Trump supporter talk and you hear some variation of this: He's not beholden to anyone. He's not like all those other politicians. He says what we're all thinking. The problem is that a candidate who is all id will struggle to sustain himself in an extended campaign."
It's going to be an interesting week.
Louisiana Governor Bobby Jindal has an event at 1pm today in Vinton, Iowa. We'll look for news out of that.
Meantime, Hillary Clinton's campaign responding to weakening poll numbers by going on offense.
Anne Gearan in the Washington Post today writes, "After months of remaining largely above the partisan fray - and often appearing cautious to a fault - Hillary Rodham Clinton has begun taking more risks and landing some punches against Republicans."
Hillary has an event today in Exeter, New Hampshire where she is unveiling a massive $350 billion plan to help make college more affordable and to reduce college debt. NH has the highest average student loan debt in the country.
A million gallons of toxic water from an old gold mine are creating an environmental disaster in Colorado. Animas River, San Juan River, Lake Powell and the Colorado River all impacted. Alicia Acuna reporting, and we'll add a guest.
Several drones sighted over Newark Liberty International Airport this weekend. It's a dangerous new trend that could lead to an accident. Rick Leventhal reporting.

There's been a surge of violence in Afghanistan. 100 have been killed in recent bombings and terror attacks. Five were killed in an attack near the Kabul airport by the Taliban.. they say there were targeting foreigners.
The U.S. consulate in Istanbul was attacked by armed assailants. There was a gunfight with police. One female suspect was injured and captured. One man got away. No police or consulate workers were hurt. An earlier bomb attack at a police station injured 10 including 7 police officers. Part of the three-story building collapsed.
20 people were killed or are missing and presumed dead after a huge typhoon hit China and Taiwan over the weekend.
Washington Post reporter Jason Rezaian "trial" continued today in Iran. He's accused of being a spy. The Post insists he's a journalist falsely accused. A verdict is expected this week.
For more news, follow me on Twitter: