Ferguson bakery vandalized during protests receives $200,000 in donations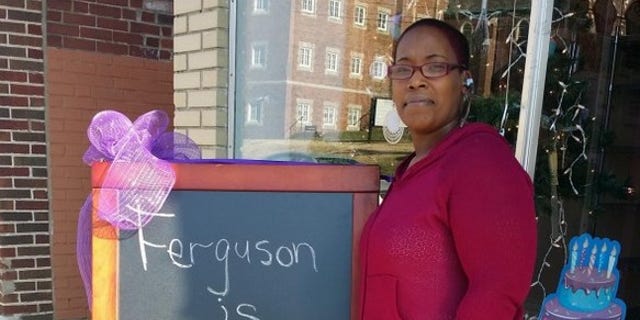 NEWYou can now listen to Fox News articles!
A Missouri bakery nearly destroyed by violent protests in Ferguson this week has received more than $200,000 in donations from Good Samaritans helping to rebuild the popular cake shop.
Business owner Natalie DuBose opened "Natalie's Cakes and More" in June about a block away from the Ferguson Police Department, according to Fox affiliate KTVI.
DuBose's bakery saw a flow of steady customers until protesters vandalized it Monday night after the announcement that a grand jury will not indict a white police officer in the shooting death of an 18-year-old black man in Ferguson.
Windows were smashed and cooking equipment was damaged at the business -- just as DuBose and her workers were preparing for Thanksgiving.
DuBose quickly set up an account on the website, GoFundMe.com, allowing strangers from around the country to donate. Actress Patricia Heaton urged her Twitter followers to contribute to DuBose's cause.
"I LOVE TO BAKE!!! It was my dream and I'm working hard to accomplish that dream," DuBose wrote on the website. "My main windows were smashed and bakery damaged. I'm beside myself, but with the holidays, can't stop working."
Dubose, 32, had set a goal of raising $20,000, but as of Thursday afternoon the site reported $226,757 in donations.
DuBose's business was not the only one badly affected by the Ferguson riots. At least a dozen businesses were set ablaze and many others were looted Monday night after the St. Louis County Prosecutor announced that officer Darren Wilson would not be charged in the fatal shooting of Michael Brown. One beauty shop was completely flattened after vandals set it on fire.
Click for more from Fox2Now.com