Female teacher, 34, fired after filing for marriage license to wed 16-year-old boy student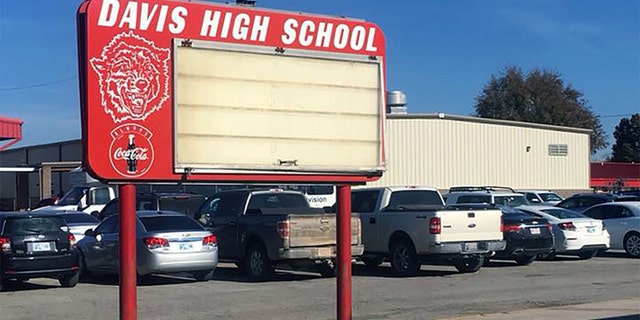 NEWYou can now listen to Fox News articles!
A high school teacher in Oklahoma was fired Thursday after she and her 16-year-old student allegedly applied for a marriage license, the New York Post reported.
Cassandra White, 34, and the teen reportedly went to the Cleveland County Courthouse on Wednesday to file for the license. The following day, administrators at Davis High School dismissed the teacher, they announced in a statement.
"The district is currently cooperating with law enforcement in the investigation of these allegations," the school said, according to KTEN. "The teacher in question is no longer employed by Davis Schools."
PIPE BOMB EXPLOSION UNDER PRINCIPAL'S JEEP PROMPTS RAID AT SCIENCE TEACHER'S HOUSE
The Davis Police Department began investigating rumors of an alleged inappropriate teacher-student relationship, which surfaced around Dec. 1, Police Chief Dan Cooper told KFOR. Authorities reportedly went to the courthouse on Thursday after learning of the filing.
Court records obtained by KFOR reportedly showed that the teen's father signed permission to allow the marriage. Parental consent is a requirement under state law for anyone under the age of 16 who wants to marry, the outlet said.
But the move is in violation of school conduct policies, according to KTEN. "Romantic or sexual" relationships between school officials and students, even those who are 18, will result in "a violation and suspension or termination for the employee," the outlet said, citing the school district's sexual harassment of students policy.
OKLAHOMA VET SAYS HE PULLED 21 PACIFIERS FROM DOG'S STOMACH
"Any sexual affiliation between teachers and students under the age of 18 may constitute a crime under state and federal law," the policy said.
It is not yet clear if the alleged relationship was sexual in nature and no arrests or charges have been filed, KFOR reported. But White could reportedly face rape charges if authorities find evidence that the pair had intercourse. State law prohibits teachers and students in the same district from having sexual relationships, KFOR noted.