Feds seize 200 weapons in busted smuggling ring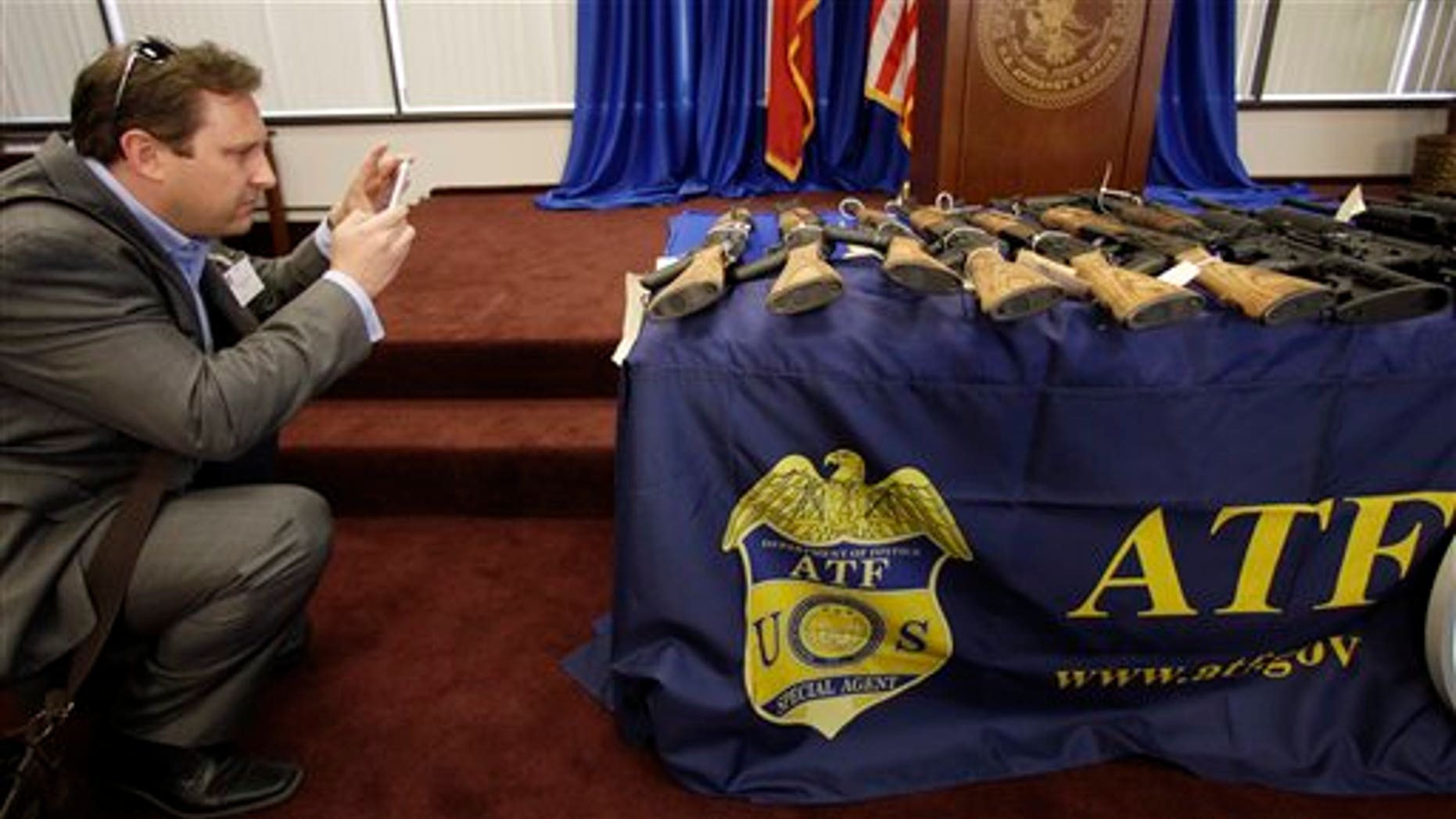 SAN ANTONIO – Young housewives and older moms who bought assault rifles from Texas gun dealers are among nearly two dozen charged in an alleged weapons smuggling ring that armed Mexican cartels before the scheme was broken up, federal agents said Wednesday.
More than 200 weapons, including AK-47s and sniper rifles, were seized and 22 people have been arrested. Many are accused of being so-called "straw buyers" -- gun shoppers without prior criminal records who legitimately buy from licensed dealers, then hand the weapons to smugglers.
During a news conference in San Antonio, the Justice Department trumpeted the arrests as a "big hit" in stopping the flow of guns to Mexico. The same agency was left beleaguered following Operation Fast and Furious, in which federal agents in Arizona tried tracking guns suspected of being bought by straw purchasers.
That operation erupted into controversy when the Bureau of Alcohol, Tobacco, Firearms and Explosives lost track of thousands of weapons, two of which turned up at an Arizona shootout where a Customs and Border Protection agent was killed.
None of the weapons seized in the South Texas case were tracked, said Crisanto Perez, assistant ATF special agent in charge.
Federal prosecutors declined to say whether any of the gun dealers who sold the ultimately seized weapons were under investigation.
Nine defendants have already been sentenced, including two Tuesday in Del Rio. Keith Edwards, 23, and Rick Gonzalez, 22, were sentenced to more than three years in prison each. According to court records, Edwards bought at least three weapons from different federally licensed gun dealers.
One of the alleged smugglers and ringleaders, Edward Levar Davis, 34, was sentenced to 14 years in prison, longer than any of the other defendants so far. More suspects await sentencing later this month.
Authorities said the straw buyers arrested include housewives, mothers and cousins. Most were paid around $100 for each purchase, federal agents said. The seized firearms cost between $800 and $1,400, which would make the total value of the weapons caught before reaching Mexico at least $160,000.
Not all the southbound weapons were intercepted. Perez said ringleaders successfully moved three shipments into Mexico before investigators caught wind of the operation. Perez did not know how many guns were involved. However, by way of comparison, five shipments were involved in the 203 seized weapons announced Wednesday.