Feds find drug tunnel linking San Diego, Tijuana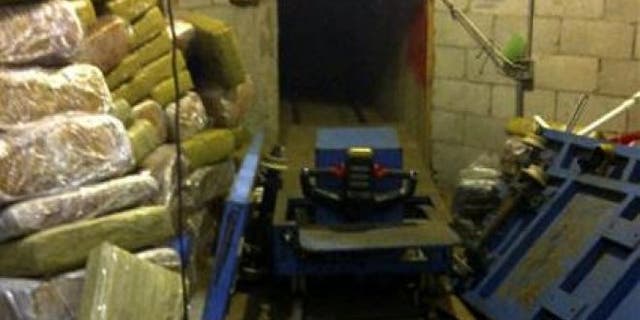 A sophisticated border tunnel was discovered connecting San Diego and Tijuana, Mexico, U.S. authorities said Wednesday, the latest find by investigators who have encountered a number of secret passages in recent years used for drug smuggling.
The passage was recently completed, U.S. Immigration and Customs Enforcement said in a brief statement. A spokeswoman, Lauren Mack, declined to specify what it had been used for.
Mexican news organizations published photos that show a deep, well-built tunnel near Tijuana's main airport. Alberto Capella, Tijuana's public safety chief, said Wednesday night that a law enforcement operation was underway and he couldn't provide details.
More than 75 tunnels have been discovered along the U.S.-Mexico border since 2008, designed largely to smuggle marijuana to the United States.
The tunnels are concentrated along the border in California and Arizona. San Diego is popular because its clay-like soil is easy to dig. In Nogales, Arizona, smugglers tap into vast underground drainage canals.
San Diego's Otay Mesa area -- site of the latest discovery -- has the added draw of plenty of nondescript warehouses on both sides of the border to conceal trucks being loaded with drugs.
The tunnel is the eighth major passage discovered in San Diego since 2006, a period during which Mexico's Sinaloa cartel has solidified its hold on the prized smuggling corridor.
In November 2011, authorities found a 600-yard tunnel that resulted in seizures of 32 tons of marijuana on both sides of the border, with 26 tons found on the U.S. side accounting for one of the largest pot busts in U.S. history. The tunnel was equipped with electric rail cars, lighting and ventilation. Wooden planks lined the floor.
On Thanksgiving Day of 2010, authorities found a roughly 700-yard passage equipped with rail tracks that extended from the kitchen of a Tijuana home to two San Diego warehouses, netting about 22 tons of marijuana on both sides of the border.