Federal prosecutor quits racketeering case, as Texas DA murders spark security fears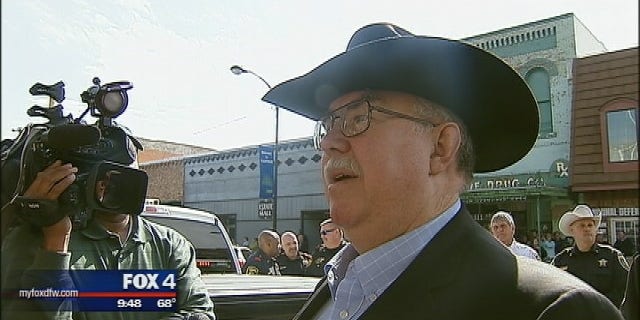 NEWYou can now listen to Fox News articles!
The murders of two prosecutors in Kaufman County, Texas, apparently has prompted a federal prosecutor to withdraw from a major racketeering case in Houston, the latest sign that attacks on lawmen are having a chilling effect on the judicial system.
Assistant U.S. Attorney Jay Hileman sent defense attorneys an email Tuesday saying he was withdrawing from the case against the Aryan Brotherhood of Texas due to safety concerns.
"I understand why someone would want to step back, and it makes sense to me, especially people who have families," defense attorney Richard Ely, who is representing one of the defendants in the case, said. "Jay is a friend of mine, and this was a personal decision."
The Aryan Brotherhood case, which netted 34 indictments last November, was followed by a statewide warning that the white supremacist prison gang may be planning retaliation. Ely doesn't know the origins of the threat, but he thinks it was probably someone just "spouting off."
The Kaufman County District Attorney's Office was named in the threat because it joined several other agencies on a task force aimed at cracking down on white supremacist groups. Since then, District Attorney Mike McLelland and Deputy DA Mark Hasse have been murdered in brazen attacks.
The murders in Kaufman County have prompted tighter security for a number of other prosecutors in the state of Texas, including Harris County District Attorney Mike Anderson.
A high-profile attorney told MyFoxHouston.com that he started seeing a group of U.S. Marshals escorting Hileman around the city two months ago, which coincided with the Jan. 31 murder of Hasse.
The recent murders, including the killing of Colorado prisons chief Tom Clements, which investigators believe may be linked, have raised questions of security for prosecutors across the country.
"There are 40,000 prosecutors in the country, and anyone who has spent some time trying a case will probably tell you that they receive threats all the time," Scott Burns, executive director for the National District Attorneys Association, told FoxNews.com. "What happened in Kaufman County is not only an assault on these attorneys but it is also an assault on the rule of law and the judicial system."
He added: "This is unfortunately something we deal with all the time. The only good news is that to be murdered because of your position as a prosecutor is still very (unlikely)."
Others say that there has been a recent rise of attacks against attorneys at their homes, which has gone largely unnoticed until recently.
"There is some research that suggests these acts are increasing," Steven Jansen, VP and CEO of the Association of Prosecuting Attorneys, told FoxNews.com. "It may be due to addresses of district attorneys now being available online."
Incidents like these adversely affect the judicial system's functioning when people are targeted simply to slow or stop a case from going forward.
Heath Harris, an assistant district attorney in Dallas, told the Los Angeles Times that the recent murders could have lasting effects.
"I've always reassured them (new attorneys) you really don't have to fear retaliation," he said. "I definitely think people will think twice about becoming a prosecutor."