FBI Uses High-Tech Photo Equipment in Search for More Bodies on Long Island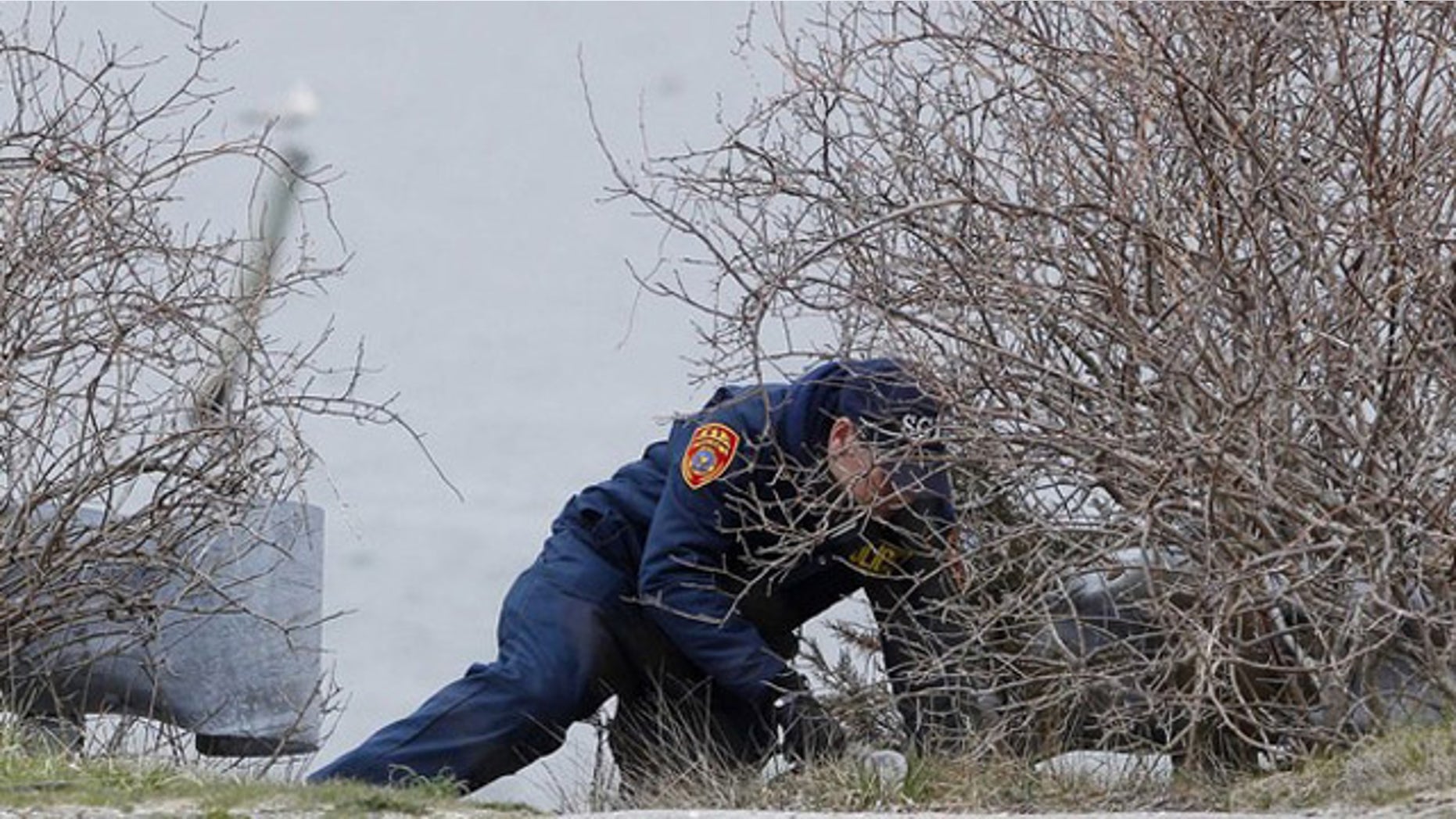 The FBI deployed high-tech aerial photography Thursday in the hunt for more bodies dumped by the killer or killers who have buried at least 10 victims along miles of Long Island beach.
An FBI fixed-wing plane with high-resolution photo imaging conducted flyovers to help detect possible human remains, while the police conducted a ground search of the area.
Detective Lt. Kevin Smith of the Nassau County Police Department said in a press conference that no human bones were found during Thursday's search, though he said it will take a week to 10 days before the FBI images are available.
An FBI spokesman told FoxNews.com that a helicopter will join the search Friday.
Police sources say the remains of the 10 victims could be the work of two serial killers, according to local press accounts.
A Nassau police spokeswoman, however, would not confirm to FoxNews.com that police are hunting two killers, saying only that authorities are waiting for reports from the medical examiner on the age, sex and condition of the latest remains found.
"We're still waiting for those reports," the spokeswoman said. "We can't confirm anything -- that's all speculative right now."
Police looking for missing New Jersey escort Shannan Gilbert found the remains of four prostitutes wrapped in burlap bags along a deserted stretch of ocean parkway in December. The women, all in their 20's, had advertised their services on Craigslist. When authorities resumed the search for Gilbert in March, they found another four sets of human remains -- one was reportedly a child and another a man, the New York Daily News reports. Police then discovered two more sets of remains -- a torso and skull -- near Jones beach Monday.
Police sources told WCBS-TV that the killings may be two patterns and the work of two killers. The New York Post reports that the most recent remains found, which predate the escorts, could be victims of Long Island serial killer, Joel Rifkin, who is serving a life sentence for the deaths of nine prostitutes. Three of his victims have never been found.
Police divers searched the waters just off the Cedar Beach marina Wednesday for "any evidence" connected to the remains found.
No suspect or person of interest has so far been named, and Suffolk County Police Chief Richard Dormers aid Wednesday that investigators are "interviewing a lot of people."
"I'm not going to get into names for obvious reasons," he said.
Dormer also said the sets of remains found on Long Island are likely not connected to the 2006 deaths of four Atlantic City prostitutes. "The indications we have right now is that there is no connection," he said.
Dormer said police have received more than 600 tips in the case.
Police sources have said evidence suggests that whomever dumped the four bodies discovered in December is knowledgeable of police investigative tactics and familiar with the area of Long Island where the bodies were found.
Law enforcement sources also told WCBS-TV that they have a working profile of the killer -- a white male between the ages of 25 and 40, and intelligent.
Dormer said Wednesday that he believes the four murdered women found in December were targeted because they were sex workers, and he cautioned other prostitutes to "be very careful who they meet and where they meet them."
In an attempt to calm local residents' fears, Dormer said, "We don't have someone running around Suffolk county with blood dripping from a knife."
FoxNews.com's Cristina Corbin and The Associated Press contributed to this report