FBI: Terror probes nearly equally split between domestic, jihadi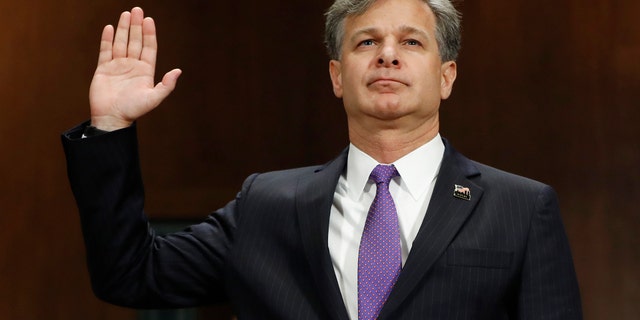 The FBI's number of terrorism investigations is almost equally split between domestic cases and those involving jihadi operatives, the agency's new director told a Senate panel Wednesday.
But some Democrats have been pushing the Trump administration to shift the nation's security focus away from radical Islam and toward combating domestic white supremacists, the Washington Times reported.
When it comes to homeland security, the FBI is currently looking into roughly 1,000 domestic terrorism cases, which is almost on par with the number of jihadi terrorist threats, said Christopher Wray, who took over as FBI director in August.
During Wednesday's hearing, hosted by the Senate Homeland Security and Governmental Affairs Committee, several Senate Democrats argued that white supremacist and domestic extremist threat may require more resources, using last month's violence in Charlottesville, Va., as an example, the Times reported.
Sens. Claire McCaskill, D-Mo., and Kamala Harris, D-Caif., each made a case for why more emphasis should be placed on domestic terrorism.
"I don't think many Americans understand the level of threat that we have in this country from white supremacists, anti-government and other violent extremists," said McCaskill, the ranking Democrat on the committee.
Wray reassured the senators that "there are a significant number of agents who are working very hard on that subject" and that "it's a top, top priority."
Federal officials said they take all threats seriously, but don't divide their resources between the two issues, the Times reported.
In May, the FBI said it linked white supremacist groups to 49 homicides in 26 attacks from 2000 to 2016, "more than any other domestic extremist movement," the Hill reported.