FBI searching for jewel thieves responsible for six robberies in five states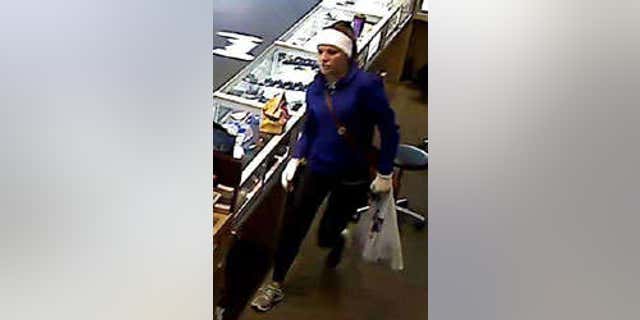 Federal authorities are searching for a young woman and her male accomplice in a string of jewel thieves across five southern states.
According to an FBI statement, the woman's latest heist was at a Jared Vault in Mebane, N.C. on Jan. 4. The woman held two employees at gunpoint, forced them into a back room and zip-tied their hands. Once they were stashed away, the woman removed several items from the store's display case and fled the shop with the items in a shopping bag.
The female suspect is described as a white woman in her late 20s or early 30s and approximately 5-feet 8-inches tall and weighs about 130 pounds. The woman was seen in one video still in jogger-type clothing. The robbery in North Carolina follows others in Florida, Georgia, South Carolina and Tennessee.
The unidentified woman has pulled the same stunt in the North Carolina store as she has done in the other jewelry stores. The FBI said she robbed Jared Vault in Sevierville, Tenn. on Oct. 16, 2015; Jared Jewelry in Bluffton, S.C. on Sept. 2, 2015; Reeds Jewelers in Panama City Beach, Fla. on Aug. 11, 2015; Zale's Jewelry in Dawsonville, Ga., on Aug. 5, 2015; and Jared Jewelry in Woodstock, Ga, on April 29, 2015.
The woman allegedly stole about $13,000 worth of jewelry in Dawsonville and then stole another $40,000 worth of items in Panama City. While in Bluffton, the suspect is said to be seen in a blue or purple striped skirt, according to WJCL-TV.
Authorities also believe the woman has been joined by a black male suspect in his late 30s and 40s and approximately 6-feet and weighs about 250 pounds. The man was caught on surveillance footage in the heists in Florida and Georgia.
The FBI said in the statement the suspects are believed to be seen in multiple cars. WJCL reported that at least one of the cars was a 2009 or 2010 red Honda Civic. They are both considered to be armed and dangerous.
The FBI urges anyone with information about the suspects or the robberies to call the FBI at 1-800-225-5324.