FBI, police investigate SUV crash into DC building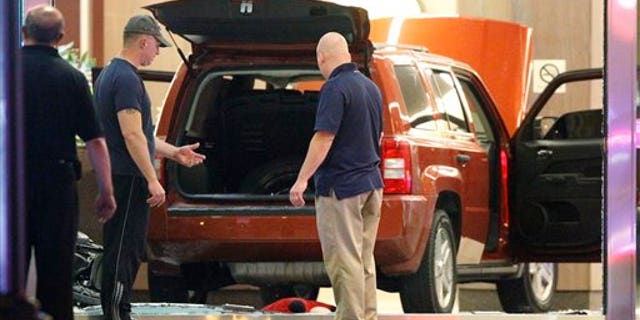 WASHINGTON – District of Columbia police and the FBI were investigating late Friday what they believe was the intentional crash of an SUV into a downtown Washington office building, police said.
Police spokeswoman Gwendolyn Crump told The Associated Press that the vehicle crashed into the building at Connecticut and L Streets, N.W., around 7:45 p.m. Friday.
Crump said the driver suffered minor injuries, but she said investigators "believe the driver did so intentionally." She said the vehicle was stolen and the driver has been apprehended.
WRC-TV reported that the vehicle's interior and the driver had been deliberately doused with gasoline. The Washington Post reported that the vehicle was carrying at least one container of gasoline.
Crump said police were looking into those reports.
An FBI spokeswoman confirmed early Monday that members of its Joint Terrorism Task Force had responded to the scene, but did not elaborate beyond what information police had released.
Crump said the building, located less than a mile from The White House and in the city's business district, has a mix of offices, retail shops and restaurants. One floor above, a restaurant was crowded with Friday evening diners.
Maureen Mathis, a law student who was in the bar area of Morton's restaurant, told The Post that she heard a crash and that a friend quipped, "Is the building collapsing? Should we try to get out" She said she then saw the driver appear to struggle with building security officers, and later with police.
D.C. Fire and EMS spokesman Lon Walls said crews treated the disoriented driver but that he didn't sustain any significant injuries. He said "nothing ignited" but that he's not sure how much of a risk there was of this happening. He said traffic was blocked in the vicinity of the building Friday evening.
A photo shows the vehicle having gone straight through a full-length, plate-glass window and coming to a stop at a building column in the lobby.