FBI launches raid at NJ apartment where man linked to bombings lived
The FBI launched a raid Monday morning in Elizabeth, New Jersey, at an apartment belonging to Ahmad Khan Rahami, a naturalized citizen from Afghanistan linked to the New York and New Jersey bomb blasts, investigators said.
Undercover agents and members of the FBI's Joint Terrorism Task Force were taking part in the raid above a chicken restaurant. The home was roughly one mile from the site where investigators found five suspicious devices, one of which exploded, outside a train station.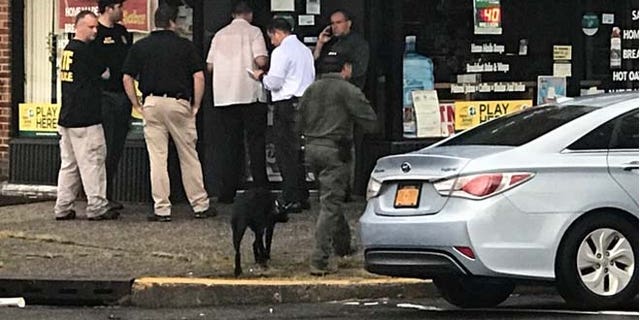 Bomb dogs went from car to car and trash can to trash can along a residential street. Officers with the Bureau of Alcohol, Tobacco, Firearms and Explosives and New Jersey State Police were also seen at the raid.
The suspicious devices turned up in a backpack early Monday morning. One exploded when a bomb squad robot tried to disarm it. The discovery came a day after an explosion in Manhattan injured 29 people and an unexploded pressure-cooker device was found four blocks away.
Elizabeth Mayor Christian Bollwage said two men called police and reported seeing wires and a pipe coming out of the package after finding it in a trash can around 8:30 p.m.
Media at the scene reported hearing a loud explosion and smelling gunpowder at around 12:40 a.m. Monday after Bollwage said earlier that the Union County bomb squad's robotic device indicated that the package could've been a live bomb. There was no report of injuries following the explosion.
Bollwage said the FBI and state police would decide how to remove the devices.
New Jersey Transit service was suspended early Monday between Newark Liberty Airport and Elizabeth, and New Jersey-bound Amtrak trains were being held at New York Penn Station, officials said.
Riders reported being stuck on Amtrak and NJ Transit trains for hours Sunday night, while some trains moved in reverse to let passengers off at other stations.
Also on Saturday, a pipe bomb exploded about an hour from the Elizabeth train station in Seaside Park, New Jersey, forcing the cancellation of a military charity 5K run. Officials said it didn't appear that those two incidents were connected, though they weren't ruling anything out.
Fox News' Leland Vittert, Meghan Welsh and The Associated Press contributed to this report.