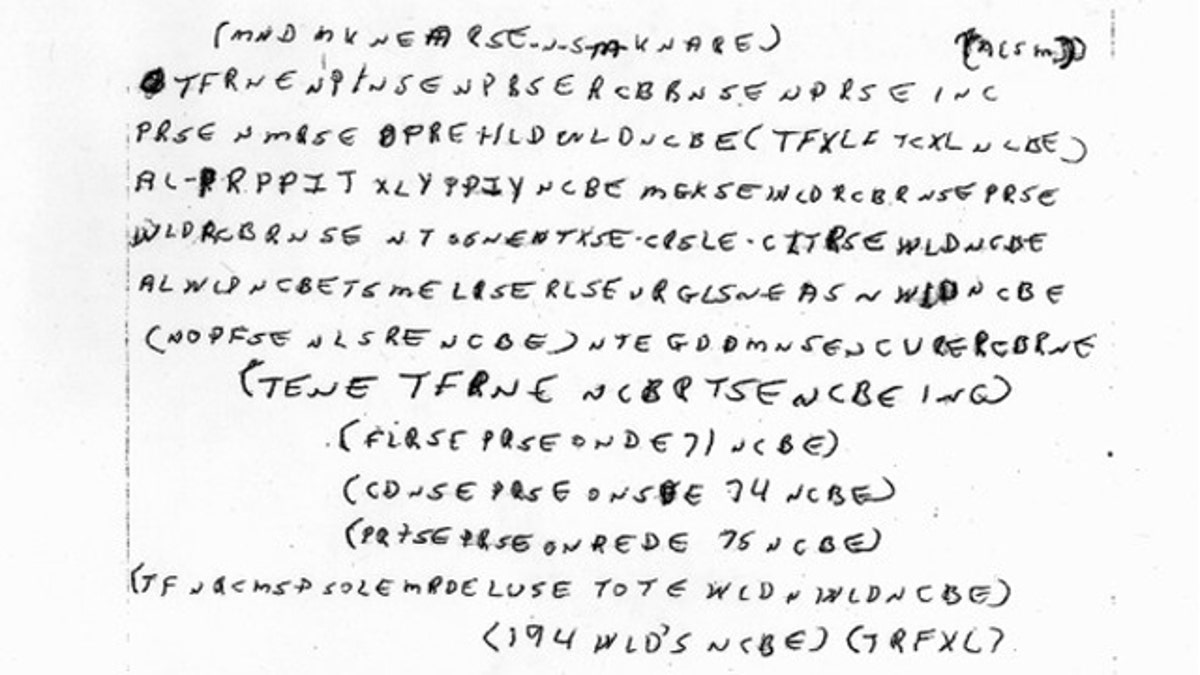 Two days after soliciting the public's help in deciphering two coded notes found in the pocket of a Missouri man believed murdered 12 years ago, FBI officials are being inundated with potential clues, FoxNews.com has learned.
Dan Olson, chief of the FBI's Cryptanalysis and Racketeering Records Unit (CRRU), urged potential code-breakers to send their tips via mail rather than sending emails or flooding phone lines.
"We don't have the bandwidth to handle the emails we're getting," Olson told FoxNews.com on Thursday. "We're getting a bunch [of responses]."
Olson said he could not quantify how many responses FBI officials have received in connection to the two coded notes found on the body of Ricky McCormick, 41, who was found on June 30, 1999, near a cornfield off Highway 367 in St. Charles County, Missouri. He also said it was too soon to tell whether any of the tips will help investigators.
"There's nothing to talk about yet, but we're excited about the prospects," Olson said.
Olson also declined to discuss possible connections to automotive terms found in the note. Several messages to Fox News from viewers who saw the FBI's call to action indicated they believed the note contained references to automotive-related terms or perhaps instructions or serial numbers McCormick would later relay to a technician.
McCormick's death was classified as a "suspicious death," but an official cause of death was never determined, according to Lt. Craig McGuire of the St. Charles County Sheriff's Office.
McCormick, who was a high school dropout who could read and write, stayed with friends and relatives in the area. His body was found in a remote area and two notes containing jumbled letters, numbers and parentheses were found in his pocket.
"It's not an area where someone would be walking by the highway and perhaps was struck by a car," McGuire said.
McCormick suffered a head injury, McGuire said, but his body had decomposed to the point that determining his death to definitively be a homicide was impossible.
"But there's more of a possibility that it was foul play based on the totality of the circumstances," he said.
Possible terms found in the garbled code, according to emails sent to FoxNews.com, included automobile VIN numbers, hospital terminology, the name "Seth," circuit board serial numbers or medications. One message suggested the coded letters were intricate reminders for McCormick to take medications, perhaps related to depression or bipolar disorder.
"He is speaking to a computer tech on how to fix his computer," one message read. "He is trying to write down the instruction as the tech tells him."
Another suggested the notes were McCormick's version of shorthand, chock full of abbreviations, acronyms and homonyms -- and not an encrypted message.
"That could explain why applying cryptographic techniques would not reveal anything," the message read. "My guess is that this note relates to gaming."
Anyone with information on the codes or the McCormick homicide is asked to write CCRU at the following address: FBI Laboratory, Cryptanalysis and Racketeering Records Unit, 2501 Investigation Parkway, Quantico, VA 22135, Attn: Ricky McCormick Case.
Think you can break the code? Click on the link here to read the note, then send us an email at FoxNewstips@foxnews.com