Father, toddler swept into ocean from Oregon beach, officials say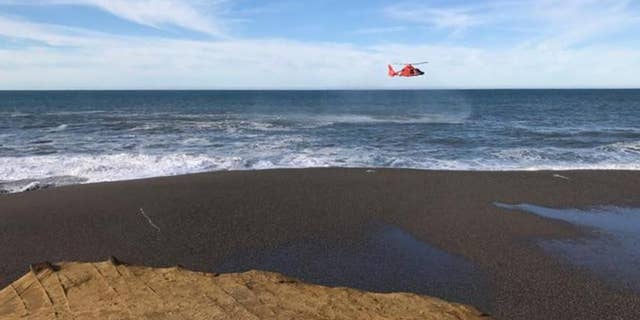 NEWYou can now listen to Fox News articles!
The Coast Guard suspended the search Monday along the Oregon coast for a father and his young son after a wave swept the two out to sea.
The U.S. Coast Guard told Fox 12 Oregon it received a report Sunday of two people in the water just before 1 p.m. local time. The incident took place at the Boice Cope County Park beach, located 4 miles north of Cape Blanco, Ore.
The 31-year-old man, identified by Oregon State Police as Jayson Dean Thomas, and his 3-year-old son, both from the Eugene area, were walking along the beach when the wave struck. The man's wife, who has not been identified by police, saw the whole incident happen and called authorities.
The Coast Guard said MH-65 Dolphin helicopter crews, as well as a 47-foot Motor Life Boat crew, searched 112 square miles for over 22 hours, covering 583 total miles in an effort to locate them.
On land, Oregon State Police on all-terrain vehicles spent Sunday and part of Monday scouring the beach areas.
A child carrier worn by the father and his coat were found in the surf, the Coast Guard said in a news release.
Oregon State Police spokesman Capt. Bill Fugate told the Associated Press the area where the two were swept away is steep, and the ocean was rough due to an approaching storm.
The Associated Press contributed to this report.