Father of Colorado theater shooter was unaware he was seeing psychiatrist before deadly attack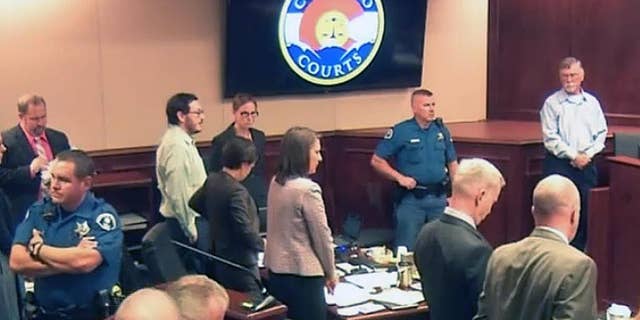 NEWYou can now listen to Fox News articles!
CENTENNIAL, Colo. – James Holmes came home for winter break from graduate school looking haggard and making odd facial expressions that looked similar to the wide-eyed smirk he flashed in one of his first jail booking photos after he opened fire on a crowded Colorado movie theater seven months later, his father said.
Robert Holmes testified that he never suspected his son was mentally ill before he killed 12 people in the July 2012 attack, but he and his wife became increasingly concerned in the months before the shooting. They rarely spoke to their son by phone, but he had stopped returning their calls entirely. The phone call they received instead was from their son's psychiatrist, saying he Holmes was dropping out of his prestigious neuroscience program.
"We didn't know he was seeing a psychiatrist," Robert Holmes said. He and his wife thought their son was depressed or suffering Asperger's syndrome, but the doctor would not return their calls seeking more information.
So they planned to visit him, but it would be too late. The flight Robert Holmes booked instead was to see his son looking sullen and confused during his first court appearance.
Robert Holmes will return to the stand Wednesday to continue testifying as his son's defense team tries to show that even this killer is loved and has people who still care about him.
Death sentences must be unanimous, and the judge has explained to jurors that their decision will be highly personal. While jurors have already found Holmes was legally sane at the time of the attack, his defense is hoping at least one juror will agree that his mental illness and family ties reduce his moral culpability so much that he deserves the mercy of a life sentence instead.
Defense attorneys will also call his mother, Arlene Holmes, to the stand as they prepare to rest their portion of the sentencing phase, which has included several dozen family friends, teachers and former neighbors who said the Holmes they knew was shy, mild-mannered and polite — not the kind of young man who would gun down innocent strangers.
As Robert Holmes testified Tuesday, jurors saw pictures and home-movies from Holmes' unremarkable childhood: A younger Holmes on the soccer field; Holmes graduating high school; Holmes smiling at the family dinner table; Holmes playing in the surf at one of the many beaches near their quiet California neighborhood.
The father said his son was an isolated teen with few friends, but he wasn't too concerned, since he was similar growing up. The younger Holmes never brought a girlfriend home, and his father rarely, if ever saw him with friends.
His parents were thrilled to learn he had started dating in graduate school, Robert Holmes said. So when his first relationship ended, he knew it wasn't a good sign.
"We knew some things weren't going well there," Robert Holmes said.
When it came time to cross-examine the older Holmes, District Attorney George Brauchler focused on what the parents didn't know or didn't tell jurors: that James Holmes' mother took him to a counselor when he was just 8 because he was throwing things and acting out, and that once he was in college he lost touch with his younger sister, and never inquired about her well-being. Brauchler will continue questioning Robert Holmes Wednesday.
While Robert Holmes occasionally glanced at his son during his testimony, the two did not acknowledge each other until near end of the day. Robert Holmes mouthed something at this son, who waved slightly at him. They both smiled.
The father said that he has only seen his son in jail three times because he typically does not allow visitors. During a rare visit, James Holmes "was clearly really messed up," his father said. "But he told us he loved us."