Father of 1st 'Occupy Wall Street' baby dies fighting in Syria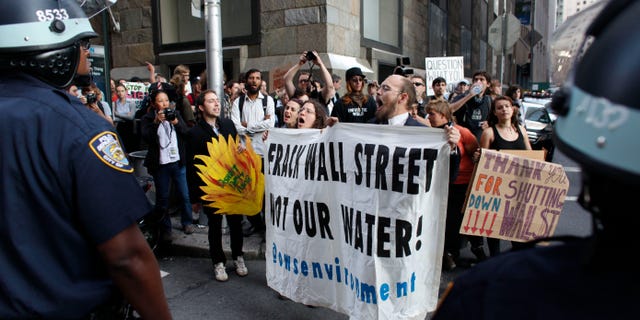 A former Occupy Wall Street protester died this month while fighting in Syria, the Daily News reported.
Robert Grodt, 28, who was known for having a baby -- the movement's first so-called "Occubaby" -- with fellow protester Kaylee Dedrick, died July 6.
The U.S. Army veteran and medic was in Syria after joining the People's Protection Units, also known as the YPG, on behalf of the Middle East's Kurds.
The YPG announced that Grodt, along with fellow American volunteer Nicholas Alan Warden, 29, died in Raqqa, the Daily News reported. Warden died July 5.
2 AMERICANS VOLUNTEERING WITH SYRIAN KURDS, DIE BATTLING IS
They were not members of current U.S. military forces there.
Warden's father, Mark Warden, told the Military Times his son was a U.S. Army combat veteran who served from March 2007 to November 2011.
Grodt said in a video posted by YPG that he joined because he wanted to "help the Kurdish people in their struggle for autonomy within Syria and elsewhere," the Daily News reported.
He met Dedrick after he rushed to help her when she was pepper-sprayed by police in 2011 at an Occupy Wall Street protest.
Grodt's daughter, Tegan Kathleen Grodt, was born in September 2012. In a YPG video, he told her he was sorry he was not home with her, the News reported.
Dedrick later settled with New York City for $55,000 in the incident, which she said she planned to use for the baby's college fund.