Farm shredder may have triggered Texas wildfire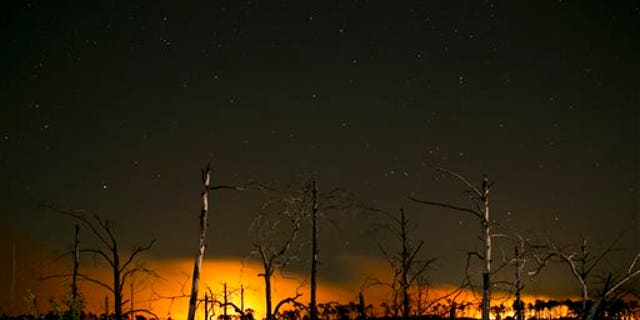 NEWYou can now listen to Fox News articles!
The wildfire that has destroyed 40 homes and other structures in Central Texas may have started when a rancher's shredder ignited grass clippings, a judge told a local newspaper.
Speaking to the Austin American-Statesman, Bastrop County Judge Paul Pape said a line of fire was created before the rancher discovered what had happened. The flames have so far scorched more than 7 square miles.
Some 300 firefighters awaited the arrival of a DC-10 jet tanker that can drop close to 12,000 gallons of retardant at a time over a swath three-fourths of a mile long and 500 feet wide. It is also able to divide its load into five separate drops.
The Very Large Air Tanker will travel from Tennessee to help fight what has come to be called the Hidden Pines Fire. A smaller single engine air tanker dropped retardant on the area Thursday. The same area was scorched four years ago by a devastating blaze that wiped out 1,600 homes and killed two people.
The fire has been fueled partly by hot, dry weather, but a cool front moved into Central Texas on Friday. That front was forecast to bring wind gusts above 20 mph, prompting concerns the fire could expand further. Smoke from the blaze on Thursday drifted as far as downtown Austin, some 40 miles away.
"This is a day of transition for Bastrop County," Judge Pape said at a news conference Friday morning, referring to the aircraft assistance and the troublesome winds. "It could either get better or it could get a whole lot worse."
More than 4,500 acres have burned, officials said, and the wildfire was about 25 percent contained Friday, a day after the blaze quadrupled in size. About 400 homes have been evacuated since the fire began Tuesday. No deaths or injuries have been reported.
Some of the worst damage was near the rural ranching community of Smithville, where a sign proudly announces the town as the home of the 1998 Sandra Bullock film "Hope Floats." But the damage so far has paled in comparison to the 2011 wildfire that destroyed nearly 10 times as much ground.
On a list of burned houses that county officials posted inside a gymnasium in Smithville, Dennis Moninger's address was near the top of the page. He said the fire also destroyed his brother's house nearby.
"He saw the fire jump across the street and onto his property," Moninger said. "It jumped from treetop to treetop."
The Associated Press contributed to this report.