Family of Chicago-area man tortured in Facebook Live video speaks out
The entire family of the mentally challenged man who was held hostage in Chicago and tortured for up to 48 hours -- by a group shouting "F--- Donald Trump" -- saw the horrifying video streamed on Facebook Live, and was just happy he was alive and safe at home, his brother-in-law told reporters, as the four suspects awaited a court appearance Friday.
TODD STARNES: VIDEO HIGHLIGHTS MEDIA DOUBLE STANDARD ON HATE
"We're so grateful for all the prayers and efforts that led to the safe return of our brother. We're fully aware of the charges being brought against the offenders. At this time we ask for continued prayers for all those involved, for our family's privacy as we cope and heal," the brother-in-law, David Boyd, told reporters Thursday, reading a statement from the family.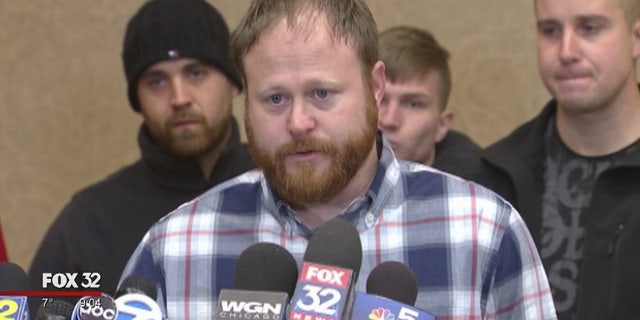 The four suspects, all black, face charges including hate crime and aggravated battery. The unnamed 18-year-old man tortured in the video is white.
GREGG JARRETT: CHICAGO TORTURE VIDEO REPRESENTS TWO DISTINCT KINDS OF HATE CRIMES - AND THAT MEANS DOUBLE TROUBLE FOR THE ACCUSED
"We appreciate all of the support from everyone. We haven't spoken to anyone but each other. But we've read what's out there and we really appreciate it," Boyd added. "This should never have happened."
The 18-year-old man disappeared over the New Year's weekend before his family ultimately received texts claiming the suspects were holding him hostage, Fox 32 Chicago (WFLD) reported. He had met up with one of the suspects at a McDonald's in suburban Streamwood, Ill., before they left in a stolen van, police said.
Neal Strom, a family spokesman, told The Associated Press the victim has had "profound emotional and physical disabilities throughout his life." He did not elaborate.
Cook County prosecutors identified the suspects as Brittany Covington and Tesfaye Cooper, both of Chicago, and Jordan Hill, of suburban Carpentersville. All are 18. A fourth suspect was identified as Covington's 24-year-old sister, Tanishia Covington, also of Chicago.
Excerpts of the video posted by Chicago media outlets showed the victim with his mouth taped shut and slumped in a corner of a room. At least two people were seen cutting off his sweatshirt, and others taunt him off camera. The video showed a wound on the top of the man's head. One attacker pushed the man's head with his or her foot.
A red band also appeared to be around the victim's hands. He was tied up for four to five hours, police said.
Chicago police initially said the youth was singled out because he has "special needs," not because he was white. But authorities later said the charges resulted from both the suspects' use of racial slurs and their references to the victim's disability.
The man's parents reported him missing Monday evening. He "does not like telling his parents who he's with," according to a police report.
The grandmother of Brittany Covington said the granddaughter she raised from infancy is "not this person."
Priscilla Covington of Chicago added, "I'm so upset, my head is about to bust open... I don't know if someone influenced her."
The uproar over the beating has intensified the glare on Chicago after a bloody year of violent crime and protests against Mayor Rahm Emanuel and a police department accused of brutality and hushing-up wrongdoing.
The cruelty of the attack and the intense social media exposure prompted President Barack Obama to respond, calling it "despicable."

The Associated Press contributed to this report.