Family killed in California cliff crash had recent visit from Child Protective Services, police say
A family of eight killed this week when their SUV plunged off a California highway had a visit from Child Protective Services just days before the deadly crash, the sheriff's office said, as neighbors described other troubling incidents.
Jennifer and Sarah Hart, 39, were killed along with their six adopted children — Markis Hart, 19; Jeremiah Hart, 14; Abigail Hart, 14; Hannah Hart, 16; Devonte Hart, 15; and Sierra Hart, 12 — when their vehicle plunged off an ocean overlook on the Pacific Coast Highway about 150 miles north of San Francisco, authorities said.
Six children were believed to be in the vehicle with their parents, though three siblings — Hannah, Devonte (the boy in the viral 2014 protest photo) and Sierra — haven't been found.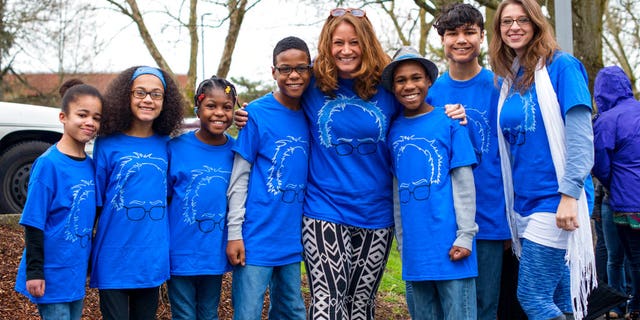 On Friday, three days before their vehicle was found, Child Protective Services were called to the Hart house in Woodland, Wash., a small city outside Portland, Ore. where they moved to in May 2017, according to Oregon Live.
The Washington State Department of Social and Health Services had opened an investigation after the children were "identified as potential victims of alleged abuse or neglect," Oregon Live reported, citing the Cowlitz County Sheriff's Office. Bruce and Dana DeKalb, the next-door neighbors of the Harts in Woodland, told The Associated Press they called child services on Friday because they thought Devonte was going hungry. They said he had been coming over to their house too often in the past week asking for food.
BOY IN VIRAL 2014 PROTEST PHOTO AMONG 8 FAMILY MEMBERS DEAD IN CALIFORNIA CLIFF CRASH
Authorities attempted to reach the family three times since Friday, but couldn't get in contact. The third attempt was made Tuesday, a day after their SUV was found. Signs showed the family planned for a short trip.
The agency had no prior history with the family.
Friends and relatives said the married couple, Jennifer and Sarah, were loving, inspiring parents who promoted social justice and exposed their "remarkable children" to art, music and nature. They were often seen at festivals, events and rallies such as one for Democratic presidential candidate Bernie Sanders and the 2014 protest against police violence that gained them nationwide attention when Devonte was photographed hugging a police officer. They often went as a group wearing matching T-shirts.
"They were really radiant, warm, adventurous inspiring people. They were always on some grand adventure, and the kids were living this life that was kind of like this dream," Zippy Lomax, a photographer who knew the Harts, told The Associated Press.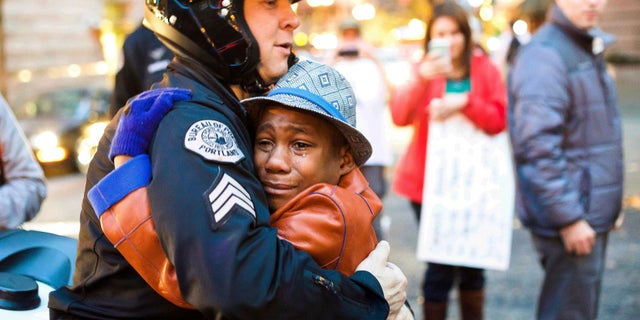 Other times, however, neighbors painted a less blissful picture of the family, describing moments when the adopted children would go knocking on their doors for food.
"Something just didn't seem right. They were very isolated in the home," Bill Groener, who used to live next to the family in West Linn, Ore., told Oregon Live.
Groener said he felt "guilty he never called [children's] services." He recalled how the parents kept the children indoors and only saw them when they came to get the mail. Groener said there were positives such as the children going on camping trips and eating healthy, that counteracted "the feeling that something maybe wasn't quite right."
The Dekalbs also recounted in August 2017 one of the girls rang their doorbell at 1:30 a.m. asking for protection.
"[She] was at our door in a blanket saying we needed to protect her," Bruce DeKalb said. "She said that they were abusing her. It haunted my wife since that day."
In 2011, Sarah Hart pleaded guilty to a domestic assault charge in Minnesota. Her 6-year-old daughter had told her teacher, "Mom hit me" when she went to school with bruises on her stomach and back, according to Oregon Live.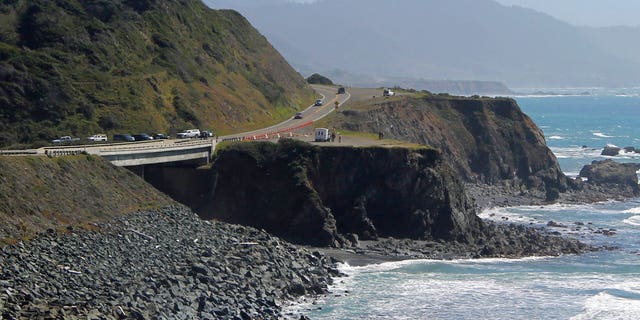 Hart received a 90-day suspended jail sentence and a year of probation in 2011.
Jen Hart appeared happy on social media, posting on Facebook earlier this month about the adoption of three of her children nine years ago.
"I am a better human in every possible way for knowing these children. They have been my greatest teachers," she wrote, according to Oregon Live. "Contrary to the common notion that we can't choose our family, we absolutely can. We choose by loving – and that's worth celebrating every damn day."
California Highway Patrol are still determining what caused the SUV to plunge from the overlook.
"We have no evidence and no reason to believe that this was an intentional act," Mendocino County Sheriff Tom Allman said on Wednesday.
However, he admitted the scene of the crash was confusing because "there were no skid marks, there were no brake marks" at the roadside turnout where the vehicle went over.
The Associated Press contributed to this report.