Families gather seeking closure 20 years after ValuJet crash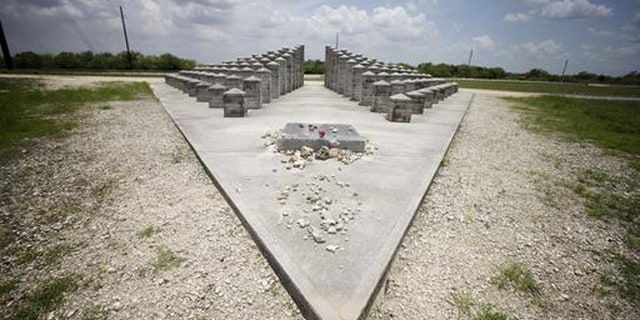 NEWYou can now listen to Fox News articles!
MIAMI – Relatives of the 110 people killed when ValuJet Flight 592 caught fire and plunged into Florida's Everglades gathered Wednesday at the remote crash site on the 20th anniversary of their deaths.
___
REMEMBERING THE VICTIMS
The first time Walter Simonton saw the Everglades, the desolation overwhelmed him as he grieved for his mother, whose plane was swallowed up by the wetlands. It was shortly after the May 11, 1996, crash of the Atlanta-bound flight from Miami, and mourners gathered with airline officials and emergency responders to drop roses into the murky waters.
Twenty years later, Simonton still felt haunted by the memory as he prepared to return to the remote crash site with his brother and niece.
"Just vast water. Vast grass," he said, unable to find other words to describe the scene.
His mother, Joyce Simonton of Macon, Georgia, was flying home on her 67th birthday. Her remains were never identified.
"Her spirit was there," Simonton said after dropping rose petals into the tall sawgrass near the crash site. "It was a bit more closure."
___
LEGAL LEGACY
The crash over Mother's Day weekend killed all 110 passengers and crew members. The plane plunged into the Everglades while trying to make an emergency return to Miami International Airport.
Federal investigators ultimately blamed a fire caused by improperly stored cargo.
Already beset by poor safety ratings, ValuJet never recovered and merged with another low-cost carrier. ValuJet's maintenance contractor, Sabretech, faced criminal charges and went out of business.
One Sabretech employee indicted in the investigation remains a fugitive, according to the FBI's Miami office. Mauro Ociel Valenzuela fled the country before his trial on charges of making false statements and causing the transportation of hazardous material, officials said.
Investigators also determined that the Federal Aviation Administration shared responsibility. The agency revised its regulations for hazardous materials in cargo and upgraded its standards for fire detection and suppression equipment in cargo compartments of similar aircraft.
___
DESOLATE CRASH SITE
At the time of the crash, a witness told investigators the plane seemed to nose-dive and then disappear. The crater created by the plane's impact, about 20 miles into the wilderness from the Miami airport, could not be seen from the nearest highway, and could only be reached by airboat or helicopter.
Alligators, humidity and muck up to 40 feet thick impeded the recovery of the wreckage and human remains. Teams spent nearly two months removing debris by hand and taking it to dry land.
Former Miami-Dade Police special response team member Greg Kral of Clermont said meeting the victims' families Wednesday was a "silver lining" for him. He remembered hearing the confusing first reports about the ValuJet plane crashing, and by the time he was assigned to the scene two days later, all he could see was a small hole in the mud, surrounded by debris.
"As cops, you want to make things better. But you knew right away that there wasn't any chance for survival," he said.
Kral joined about three dozen relatives and emergency responders Wednesday at a roadside memorial along the Tamiami Trail, where 110 concrete pillars point into the Glades. Not far from the crash site of Flight 592, Eastern Air Lines Flight 401 also plunged into the swamp, back in 1972, with 176 people on board; 77 survived that crash, thanks in large part to a man who was catching frogs that night and rescued passengers in his airboat.
___
FRAGMENTS RECOVERED
In 2013, a Florida man hunting Burmese pythons in the area spotted a penny-sized gold pendant with diamonds and sapphires glinting in the sawgrass. The pendant was partly melted, indicating that it belonged to someone aboard one of those two flights, but its ownership remains a mystery.
"When something like this happens, you don't know what pieces of your family member are going to be recovered," said Joyce Simonton's granddaughter, Kristen Simonton. The family found solace in the recovery of her Bible, though it smelled of jet fuel, along with a couple pieces of jewelry, her purse and clothes from her luggage.
Marilyn Lane of Greensboro, North Carolina, has visited the memorial three times since her brother Roger vanished in the crash. At first, the family held out hope that he had somehow survived. Each time she visits and looks out over the flat expanse of sawgrass and water, she is reminded how futile that hope was. "You realize that was just wishful thinking or denial," she said.