Faces of Harvey: Texans forge ahead to bring relief to every kind of suffering thought imaginable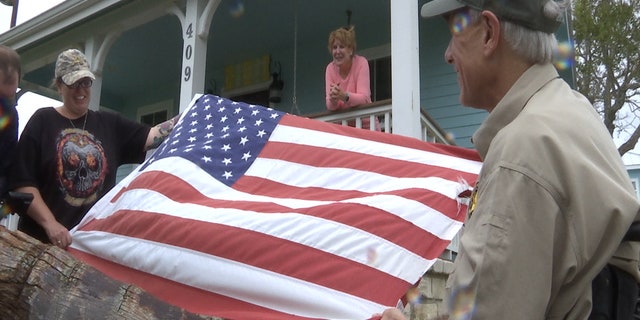 In the aftermath of Harvey, Texas Gov. Greg Abbott told his state that a new normal would have to be built.
Health experts, for instance, have warned that sewage in the floodwater could make people sick and that mosquito populations could explode in the coming weeks because stagnant water offers abundant breeding grounds.
Altogether, more than 1,000 homes in Texas were destroyed and close to 50,000 damaged, and over 32,000 people were in shelters across the state, emergency officials reported. About 10,000 more National Guard troops are being deployed to Texas, bringing the total to 24,000, Abbott said.
In the midst of a dramatically changing landscape in Texas since Harvey, officials, first responders, and volunteers nevertheless are forging ahead to bring relief to every kind of suffering thought imaginable.
The officials
Abbott sets the Texas agenda in his deep-red state using a measured, lawyerly demeanor, but last week he uncharacteristically seized the spotlight as Harvey was nearing his state's Gulf Coast.
The Republican governor warned presciently of what is happening now: floods still rising and the kind of water rescues as dangerous to victims as first responders. He said last week that Houston residents "should strongly consider evacuating" even if not told to do so by local officials: "You have the power and the ability to avoid being stuck into a search and rescue situation."
The death toll from Harvey stood at 39 Thursday evening, according to the Associated Press, and was still expected to rise.
The people most likely to be found dead are the elderly, the sick and the people who were isolated from others — along with folks who didn't have the means or wherewithal to flee. Sometimes it's a matter of having the strength to wade through flood waters a few blocks to safety, or to pull up onto a roof.
The locals
Annette Fuller of Houston took a video when she began fearing for her life on Sunday. She was on the second floor of a neighbor's home along with the residents of three other houses, including five children, as water rose and hit waist level on the first floor. "We called 911 and it rang and rang and rang and rang," Fuller said Monday after the water receded and she managed to return safely to her single-story home.
"There's just no agency in the world that could handle Harvey," she said. "However, none of us were warned that 911 might not work. It was very frightening."
Fuller's two daughters, who live in Austin and Dallas, posted her video to Facebook after their mother texted it to them, and the post went viral.
"Social media, in some ways, is more powerful than the government agencies," Fuller said.
Nearby, Patrick Tobias stood at the edge of the road, wide eyes watching the muddy water flow like a river down what was once his community's Main Street.
The 53-year-old welder approached a boat being loaded into the water, and asked for a ride to his apartment to retrieve heart medications and family belongings. Tobias lumbered into the boat and it buzzed down the street, navigating the currents at the community's main intersection, with streetlights and signs sticking out of the water.
"Make a right here," Tobias said, and the boat passed more submerged cars, coming to a stop in his apartment's parking lot.
Tobias waded through waist-high water and climbed the steps up to his apartment, which he hadn't seen since evacuating. Inside, it smelled of rotten food. The living room was filled with left-behind inflatable toys that were blown up to protect his wife and daughter as the floodwaters rose.
Tobias walked into his bedroom and found his medication, and loaded keepsakes and belongings into a massive garbage bag. He hiked it onto his shoulder like Santa Claus and waded back to the boat.
A neighbor came out onto his stairwell across the way, wearing a bathrobe and looking shaken. He stared blankly at Tobias. He went back inside, not answering calls to him asking if he needed help.
Tobias grew quiet. When he did speak, his voice cracked:
"Where do we go from here?"
The first responders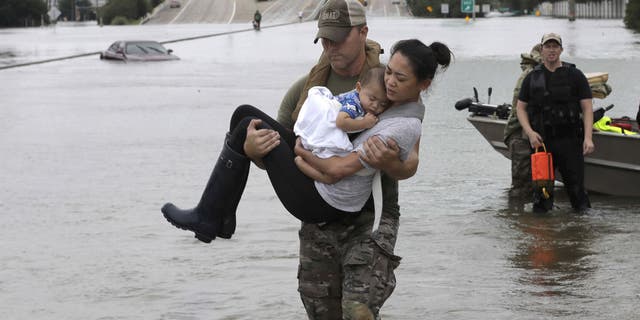 Harvey is being called the first hurricane to go viral in the digital age.
Houston Police SWAT Officer Daryl Hudeck, in baseball cap and fatigues, was pictured carrying a Houston mom and her sleeping baby through knee-deep floodwaters water covering Interstate 610 in southwest Houston. By Monday, the image of the first responder quickly had become a heroic symbol of the storm and rescue efforts, featured across the web and many front pages.
The woman, Catherine Pham, and her child, little Aiden Pham — 13 months old — were rescued along with the baby's father from their home in the city's Meyerland section, where water reached many roofs.
Families have provided comfort for first responders. Houston Police tweeted a video showing one officer's daughter serenading him on his birthday.
Meanwhile, from a base a thousand miles away from Houston, the 178th Wing of the Ohio Air National Guard is working from an office to make a huge impact on the ground, according to Fox 45.
Like first responders for the digital age, a team of six analysts are using maps and satellite images to help search and rescue crews find safe areas to set up command centers throughout the region — specifically looking for golf courses and parks that didn't flood.
They're also searching for damaged areas that need the most attention — or anything they can find to help the literal first responders in Texas.
"They are down there doing their thing," Ohio Air National Guard Col. Rebecca O'Conner said, "and anything we can do outside of that disaster zone helps free up those people that are on the ground trying to do those rescue efforts."
Now that skies are clearing up in Houston, crews plan to start analyzing damage from airplanes and guiding crews to the worst hit areas. The mission continues.
The Associated Press contributed to this report.