Facebook pics put Nevada poaching ring in game warden's crosshairs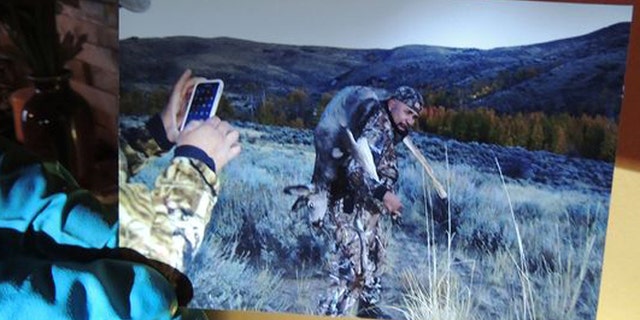 A Nevada poaching ring put itself in the crosshairs of game officials when one member posted a photo on Facebook of a mule deer killed out of season.
It was a tip in June, 2013, that alerted authorities to the photo of a man posing with the animal slung over his shoulder near Hiko, Nev., and it launched a 16-month state and federal probe that ended in the arrests of four men on a raft of charges, including poaching, weapons and illegal immigration offenses. Nevada Department of Wildlife spokesman Edwin Lyngar said it only happened because officials could tell by the background that the mule deer carried by a man they identified as Jose Manuel Ortega-Torres was not taken during the fall hunting season.
"Things didn't look right," Lyngar said. "We got a search warrant [for Ortega-Torres' home], and from there, it was a long and complicated investigation."
[image]
The search of Ortega-Torres' home led to evidence of illegally killed deer and migratory birds as well as butchering tools and weapons, authorities said. It also turned up evidence that led them to Las Vegas, where they identified Adrian Acevedo-Hernandez, 36, Jose Luis Montufar-Canales, 31, and J. Nemias Reyes Marin, 31, as part of an alleged ring involved in a wide range of wildlife crimes.
In addition to the illegally killed deer in Hiko, authorities found evidence of illegal deer killing in Elko County, Nev., and fraudulently obtained hunting licenses and tags. Perhaps most disturbing, Lyngar said, is that it is not possible to know how long the ring operated or how many animals it killed.
[pullquote]
"We had a systematic killing, illegal killing, of wildlife," he said. "We will never know the total amount that they killed."
Evidence that the men allegedly poached protected migratory birds and broke federal gun laws prompted the U.S. Fish and Wildlife Service and the Department of Homeland Security to join the investigation, authorities said.
Nevada sportsmen praised the state investigators.
"We've very proud that the Nevada Department of Wildlife caught them after a long investigation," said Rob Wallin of Nevada Outfitters, a Fallon-based group that hunts elk, deer, mountain lion and sheep. "When you do something like this, you're 100 percent criminal. We just don't know why they do it."
Lyngar said that although meat was recovered during one search, the motive is likely sinister.
"They were taking some of the meat, but that doesn't seem to be the motivating factor," he said. "People do not poach to feed their families. In the vast majority of cases, the meat is left behind. We call these thrill killings, where people do it for their ego."
According to authorities, Acevedo-Hernandez, Montufar-Canales and Marin are suspected to be in the United States illegally. It is a felony for people in the U.S. illegally to possess firearms. The three men are currently in federal custody.
The men face more charges, but the Nevada Department of Wildlife said they have already been convicted of several:
• Montufar-Canales was convicted in Churchill County, Nev., of using false information to obtain a hunting license
• Acevedo-Hernandez was convicted in Lincoln County, Nev., of unlawful possession of two mule deer and ordered to pay $5,000 in fines and civil penalties and to forfeit six firearms
• Acevedo-Hernandez also was convicted in Elko County for another incident of illegal possession of a deer and ordered to forfeit a rifle and his truck
Tony Reviglio of the Mason Valley Hunt Club in Yerington, was glad to see the poachers bagged.
"It's very sad that people do this," Reviglio said. "There's never a good reason for anyone to poach. And it takes away from the rest of the hunters."