F-16 Training Begins at Holloman Air Force Base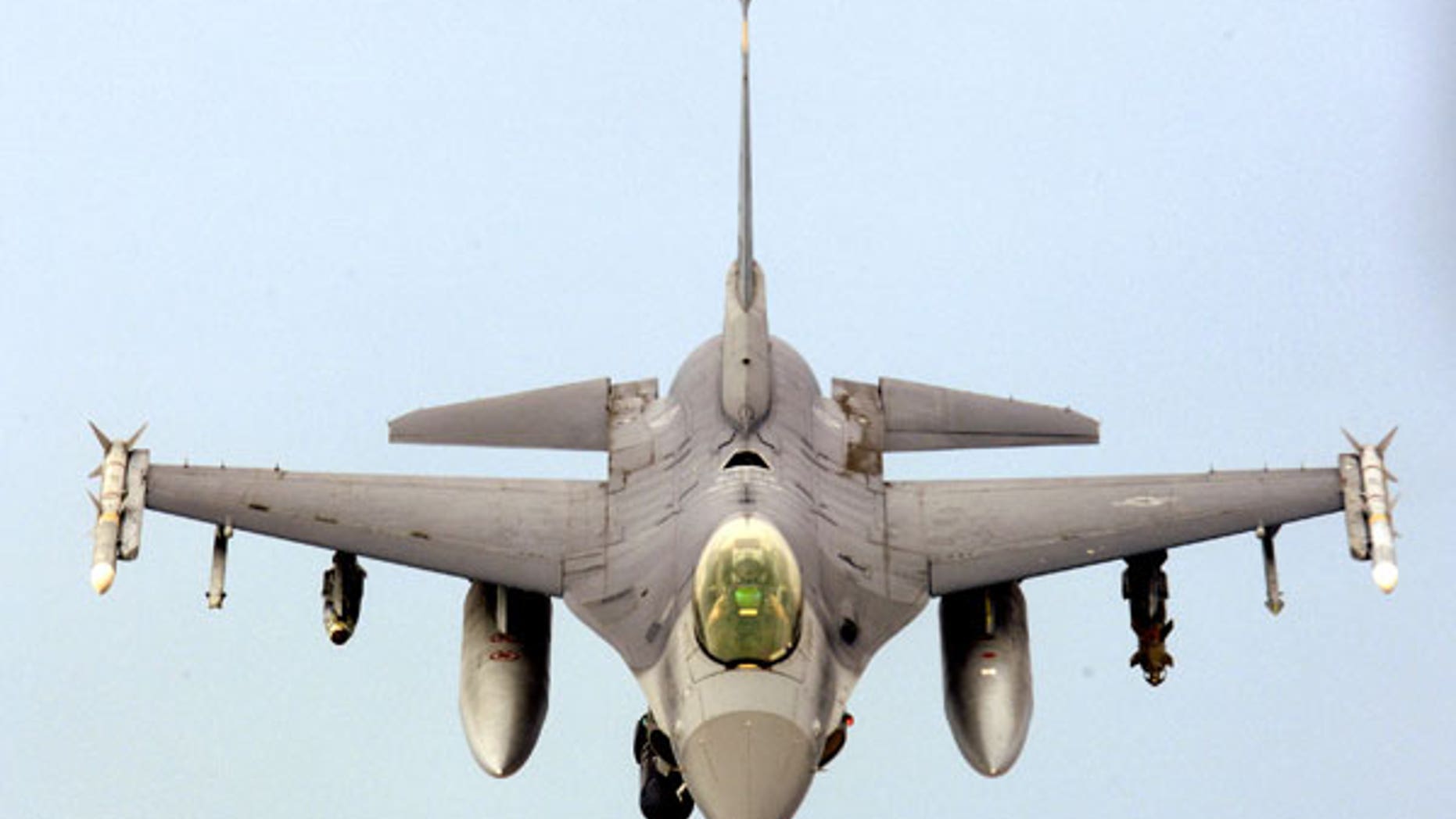 Holloman Air Force Base -- The 54th Fighter Group conducted its first basic F-16 flight training with Holloman Air Force Base Thursday.
Commander of the 311th Fighter Squadron Lt. Col Scott A. Fredrick said Holloman currently has 14 student pilots training with the F-16. Fredrick said typical training classes normally consist of 12 to 18 students with 18 being the max.
"The first students flew (Thursday)," Fredrick said. "There's 14 B coursers which have never flown the F-16. So, five flew for their first time ever (Thursday) then two more (Friday) morning."
Fredrick said students completed an hour and a half of F-16 flight time their first day of training. He added that the first day of training with the student pilots was a success.
"All of them were affective i.e. they passed the ride," Fredrick said.
Lt. Col. Marshall F. Chalverus, an F-16 instructor pilot and 54th Operations Support Squadron Commander said the success of the first training flight was years in the making. "We've been planning this for almost four and a half years as an Air Force," Chalverus said. "So, June 2010 is when we first got notification in the Air Force through Congress that this was going to happen. So this is the culmination of four years of planning and preparation. Even when we started flying here back in April most of our flying was in preparation to get this student class out the door."
Fredrick said the first F-16s arrived at Holloman in March.
"We flew our first training sortie for our instructor cadre in April," Fredrick said.
Chalverus said before students get to sit in the cockpit of the F-16 they go through 45 days of academic training. He said student also train with a state of the art flight simulator before ever getting in the real deal.
"Here at Holloman Air Force Base we have the world's most powerful flight simulator in terms of computing power," Chalverus said. "It's an L3 system. L3 is the company that makes it. The Air Force purchased the system about four years ago for the F-16. From an equipment standpoint we have close to $100 million worth of just simulator equipment here at Holloman."
Capt. Matt Hoyt, an F-16 instructor pilot, said the simulator provides accurate replications of the environmental conditions while flying the aircraft in the Tularosa Basin. Hoyt said the simulator is also relevant for instructors.
"It's keeping our instructor pilots Combat Air Force ready," he said. "The focus is on our students but that capability allows at any given time for our instructors to answer the call to go down range."
Fredrick said even though the main goal is train new pilots, instructors are still required to be Combat Air Force ready.
"Our task as commanders is two fold," Fredrick said. "Our primary mission is replenishing the CAF with our basic course graduates. But we also have to keep our instructor pilots to that top level of capability."
Fredrick said it costs about $5 million to train a pilot on the F-16. He said the cost is driven off of the cost per hour for gas, maintaining the aircraft, the salaries for the maintainers, the instructor pilots and other essentials.
Fredrick said one jet cost approximately $25 million. He said such an expensive aircraft requires great amounts of training and resources to keep the jet in the air.
Fredrick said the F-16 flight training will take six to eight months to complete. Once the training is complete the students typically have 75-80 hours of flying time in an F-16.
"As soon as they graduate we have about three weeks off and then we start another class," he said. "About the time we're graduating them the next class will be here already going through Col. Chalverus's squadron of academics and then about a month later then they hit the flight line and we start the process all over."
According to the 49 Wing Public Affairs office, there are approximately 400 personnel currently at Holloman for the F-16. The 54 Fighter Group expects approximately 650-700 personnel to support five squadrons, including the 311th Fighter Squadron, 54th Aircraft Maintenance Squadron and 54th Operational Support Group.
A second fighter squadron and maintenance squadron will be added in June 2015. The second fighter squadron is estimated to bring the total number of personnel to about 800.