Ex-student avoids prison in Iowa State sex assault case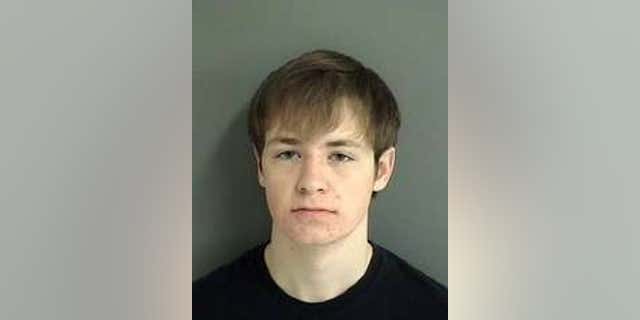 NEVADA, Iowa – A student who was sexually assaulted after an Iowa State University party confronted her assailant at his sentencing hearing Thursday, telling him the attack had scarred her forever.
The March 2014 assault "turned my life upside down," 21-year-old Melissa Maher told Patrick Whetstone in a forceful statement from the witness stand.
"It's been 914 days since you shattered my college career, put it on hold and touched my soul in a way that haunts me in my sleep," Maher told Whetstone, reading from a two-page typed statement. "My life has been completely changed because you wanted to have your fifteen minutes of fun."
She warned: "Don't you ever mess with another woman. Don't you ever touch another girl. No means no."
Maher, who said she wanted to be publicly identified, spoke before Judge James McGlynn sentenced the 21-year-old Whetstone to two years of probation followed by 10 years of monitoring and a lifetime requirement that he register as a sex offender. Both parties had recommended that sentence in a plea agreement in which Whetstone pleaded guilty to assault with intent to commit sexual abuse, an aggravated misdemeanor.
McGlynn said he believed the sentence was an appropriate resolution that would protect the community and allow Whetstone to be rehabilitated. He said he was encouraged that Whetstone had started to accept responsibility by pleading guilty and warned him to get consent from sexual partners in the future.
A criminal complaint says that Maher, then 19, became ill after drinking alcohol at a March 29, 2014, on-campus party where she met Whetstone, who was also drinking. Both were students at the time. After falling asleep or passing out on a couch, she says she woke up to find Whetstone sexually assaulting her.
Maher, who is now a community college student in her native state of Texas and recently engaged, said the plea agreement was "the best thing for me to go on with my life."
"I'm starting a new chapter," she said in an interview after the hearing. The Associated Press does not generally identify victims of sexual assaults, but Maher said she wanted to come forward in the hopes of bringing change to how rape victims are treated on college campuses.
Whetstone declined to speak at the hearing. Until his guilty plea last week, he had argued that the sexual encounter was consensual and that Maher was lying.
In her statement, Maher said she lost friends who didn't believe her claim that she had been raped. She spoke of dropping out of Iowa State after seeing Whetstone around campus, not feeling safe in her own bedroom and having panic attacks that have caused her to miss work.
"Let's count the number of times I've woken up in the middle of the night and found myself yelling, crying, kicking and screaming or swearing from the nightmares of you and your sad existence," she said. "Or perhaps we could count the number of times you've ruined a date for me and my fiance because I have these awesome relapses of where I can't stop reliving a memory from you."
In a lawsuit, Maher has accused the university of botching its response to the case from beginning to end.
She claims school officials discouraged her from filing charges and then assigned her to live in campus housing near Whetstone the next semester while the assault remained under investigation. She said the trauma of routinely seeing Whetstone forced her to drop out-- only to later learn that the school mistakenly gave her F's in classes she had withdrawn from, sent her a bill for payments that had been forgiven and put a hold on her transcript, which delayed her ability to transfer elsewhere.
After the woman filed a complaint about her treatment, the federal Office for Civil Rights opened an investigation into Iowa State's handling of the case and other sexual assault allegations. That two-year inquiry remains open. Following a lengthy administrative process, Iowa State officials ruled that Whetstone had violated its sexual misconduct policy and expelled him.
Maher said she once dreamed of being a distinguished Iowa State graduate, adding that she still wants "to be somebody Iowa State will never forget."