Ex-New York City teacher, twin brother, arrested for allegedly using students to help make bombs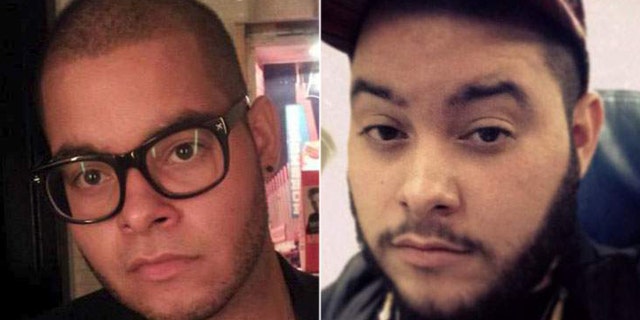 An ex-New York City high school teacher was charged in a federal complaint Thursday for allegedly using students to assist in making a bomb.
Christian Toro, a 27-year-old Bronx resident, appeared in Manhattan federal court for the alleged offenses, which include unlawfully making an explosive.
Authorities claim in the complaint that Toro hired at least two students from October 2017 until January 2018 to dismantle fireworks to obtain explosive powder at $50 an hour. The former teacher would then reportedly store the powder in containers.
His twin brother, Tyler Toro, also 27 and of the Bronx, has been arrested in the case.
The case grew out of a bomb threat called into a charter school in Harlem by students on Dec. 4, the Attorney's Office for the Southern District of New York said, citing the complaint.
SUSPECT ARRESTED IN BRUTAL KILLING OF TEEN LEFT FOR DEAD 'NOT MAD AT HER,' REPORT SAYS
An investigation ensued, and on Jan. 10, Christian Toro abruptly resigned from the school. Two days later, Tyler Toro returned his brother's school-issued laptop, where a technician discovered "bomb-making instructions."
Christian Toro told officials he'd come across the "bomb-making" document while researching the 2013 Boston Marathon bombing and looked at it, but never meant to download it, the complaint said. He said he'd never built a bomb.
Law enforcement obtained a search warrant and raided the Toros' Bronx apartment on Thursday and found "over 30 pounds of chemicals, which taken together in certain combinations, constituted explosive precursor materials," officials said.
A handwritten diary with Tyler Toro's name on it was recovered. Officials said it included notations about an operation "flash."
The diary, according to the complaint, stated, among other things: "Christian arrested" and "If you're registered as a sex offender, things will be difficult."
"We are twin Toros strike us now, we will return with nano thermite" and "I am here 100 percent, living, buy weapons. Whatever we need," the diary read, according to the complaint.
The diary added, "I hope this doesn't turn into a scene from Goodfellas," after threatening retribution if anyone were to "strike us now."
A backpack belonging to Christian Toro was also allegedly recovered, containing a purple index card with a handwritten note, which read: "Under the full moon the small ones will know terror."
The complaint said Christian Toro was arrested Jan. 31 on a charge of raping an individual under age 17.
It's a felony rape in New York for someone over age 20 to have sex with someone under age 17. Details of that case could not be found Thursday night in online court records.
The Associated Press contributed to this report.