Ex-con charged with killing 4 at home in Detroit area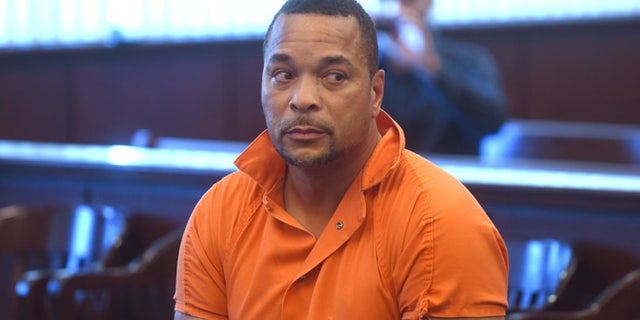 NEWYou can now listen to Fox News articles!
DEARBORN HEIGHTS, Mich. – A Detroit-area man who served 16 years in prison for killing his first wife was charged Thursday with killing his two children and two stepchildren, and torturing his wife.
Prosecutors allege that Gregory V. Green bound his wife, cut her face with a box cutter and shot her in the foot before fatally shooting her teenage children in front of her Wednesday at the family's home in Dearborn Heights.
Green, 49, also is accused of killing his and his wife's young daughters by carbon monoxide poisoning at the home.
He's charged with first-degree murder, assault, torture and other crimes. Green heard the charges during a brief court hearing Thursday and was returned to jail without bond. He wasn't accompanied by a lawyer.
"I don't need bond," Green told the judge. "I mean, I don't think I deserve it."
Police said Green called 911 early Wednesday and confessed to the killings. His wife, Faith Green, had recently filed for divorce. She survived her injuries.
"The alleged evidence in this case will show an appalling level of domestic violence that ?was cataclysmic," prosecutor Kym Worthy said in a written statement. "We must push the issue of domestic violence back to the forefront and be constantly educated about it."
In her divorce filing, Faith Green cited a "breakdown in the marriage relationship." She also filed for divorce in 2013, but the case was dismissed for lack of action. A judge rejected a personal protection order that same year.
The Greens married in 2010, two years after Gregory Green left prison on his fifth request for parole. He pleaded no contest to killing his first wife, who was pregnant, in 1991.
Gregory Green is now accused of killing his two daughters, 4-year-old Kaleigh Green and 5-year-old Koi Green, and his stepchildren, 17-year-old Kara Allen and 19-year-old Chadney Allen.
Kara was a senior, cheerleader and member of the National Honor Society at Southfield High School for the Arts and Technology. Her brother graduated from high school in 2015.
Dearborn Heights police Capt. Michael Petri said he's still in "disbelief."
"The thought that you could do something to your own children has no correlation to any reason in my mind," he said.