Evidence sought amid crushed plastic cups at shooting scene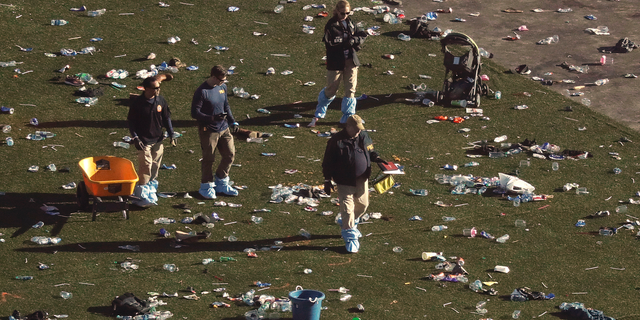 LAS VEGAS – FBI teams taking in the scene of the deadliest mass shooting in modern U.S. history Tuesday walked among upturned lawn chairs, an abandoned baby stroller and countless crushed plastic cups littering an abandoned field and stage at the edge of the iconic Las Vegas Strip.
The site across the street from the Mandalay Bay Hotel and Casino hosted 22,000 for a three-day festival featuring a lineup of country music stars.
Investigators walked the vast crime scene wearing protective shoe coverings as they occasionally picked up and bagged items from the field and combed through sound equipment left over from the Route 91 Harvest Festival
Across the street at the Mandalay Bay, about 30 floors below the hotel room that Stephen Craig Paddock turned into a sniper's perch, several FBI agents walked on a low rooftop walked among the shattered glass that fell from Paddock's smashed hotel room windows on the 32nd floor.
In the tower above, law enforcement officials in the hotel room occasionally peeked out over a wood board propped in front of a gash in the gold glass windows and toward the area where the concert took place.