Evacuees from Northern California wildfire return home as flames ease _ but some find ashes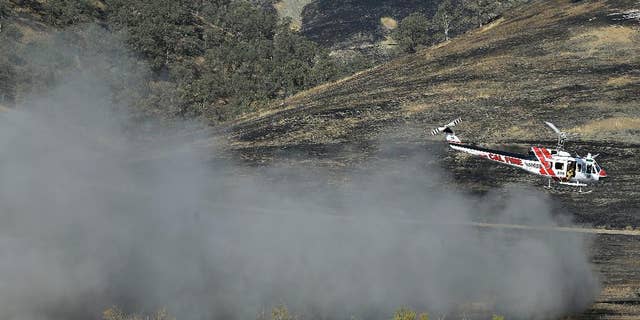 CLEARLAKE OAKS, Calif. – A Northern California wildfire that incinerated 43 homes and sent thousands fleeing was reduced to embers and smoke as winds died and evacuees returned home — but some found only ashes.
Most of the 1,200 or so people forced from their homes by the July 29 blaze were allowed back by Friday, and two highways used as firebreaks reopened.
The blaze was 50 percent contained after sweeping through nearly 109 square miles of rural timberlands and brushy hills in Lake, Colusa and Yolo counties. It was only creeping and smoldering Friday night.
"The fire's cold," fire spokesman Dominic Polito said.
Winds that had gusted erratically and sent huge flames surging through bone-dry vegetation had eased to breezes, and crews planned to concentrate on dousing hot spots, he said.
"If you had a log that was still a hot coal and then the wind kicked up, it starts blowing sparks on a hot day," he said. "We're basically putting out anything that potentially travels. But the fire's not growing anymore. It's not actively burning."
Weekend weather in the area was expected to be hot with higher humidity and winds of around 10 mph.
About 800 of an estimated 1,200 evacuees went home Thursday night. Most of the others returned Friday, including Brian Foster, who had left his house for the second time in three years on Sunday night, along with his partner, mother and pets.
"I feel pretty wonderful. It's a huge relief," Foster said Friday. "It's going to feel so good to be home."
But while containment grew, so did the sadness for some who lost everything.
Layna Rivas returned to her artists' compound up a rocky dirt road Thursday night and found the place destroyed. "It looked like a bomb went off everywhere," she said.
The 35-year-old left her home last week and took her dogs and cats to a friend's house. She had to leave her nine chickens behind.
She found two of them, one of which was walking through the rubble.
"She was nameless. Now her name is Rocky," said Rivas, dubbing the bird for the blaze that officials call the Rocky Fire.
It was most active of 17 burning in California that in recent weeks have scorched homes and scoured rural areas.
One firefighter died from smoke inhalation and carbon monoxide poisoning while battling the Frog Fire in northeastern California. The body of Black Hills National Forest Engine Capt. David Ruhl has been returned to his home in Rapid City, South Dakota.
Many blazes were sparked by lighting from so-called dry thunderstorms that dropped little rain. There were some storms overnight Thursday in other areas of the state, but they missed the Rocky Fire area.
Wildfires throughout the West have fed off dry conditions in Washington state, Montana, Arizona and elsewhere.
___
Associated Press writers Janie Har in San Francisco and Yara Bishara in Phoenix contributed to this report.