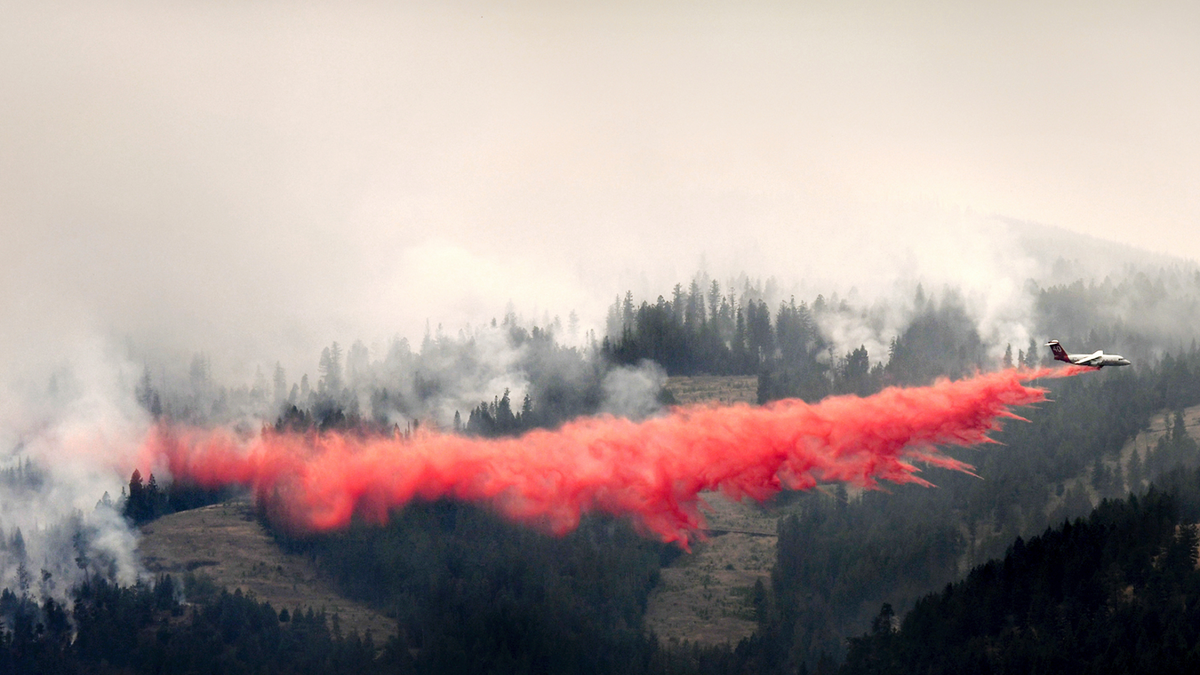 SISTERS, Ore. – Evacuation orders affecting hundreds of people were issued in California and Oregon as wildfires neared small towns, including one that's a prime location for viewing the eclipse.
About 600 residents were told to leave the tourist town of Sisters, Oregon, and authorities said Saturday another 1,000 people had been told to be ready to leave if necessary.
Sisters is located on the edge of a 70-mile swath of the state where the moon will completely blot out the sun.
No structures had been lost and no injuries have been reported since the fire began last week. The cause is under investigation.
Crews were expecting a tough day Saturday with winds gusting to more than 20 mph.
On Monday, they will have to contend with the solar eclipse that fire officials say will ground all firefighting helicopters and most fixed-wing aircraft for about 35 minutes as the moon's shadow passes over the area.
Shopkeepers were hoping the fire would not inhibit business as tourists arrive to watch the eclipse.
"If you look up at the sky it's not an orange cloud anymore," said Andrew Bourgerie, co-owner of Sisters Bakery. "So it's simmering down a little bit."
Some campsites and recreational areas were shut down due to the 12-square-mile (31-square kilometer) wildfire in Deschutes National Forest that jumped fire lines Friday.
Officials say the blaze is producing heavy smoke while burning in forests at higher elevations and sagebrush in lower areas.
"We have a few days before the eclipse to see if the smoke is in the area," fire spokeswoman Lisa Clark said.
Officials said only aircraft with instruments allowing them to fly at night can fight the fire during the eclipse. Clark said that eliminates the bulk of the firefighting fleet, though large air tankers will be able to fly.
In California, authorities issued an evacuation order for the small town of Wawona as a week-old fire in Yosemite National Park grew and air quality reached a hazardous level.
The U.S. Forest Service said the fire grew to more than 4 square miles (more than 10.36 sq. kilometers) overnight due to winds from thunderstorms. Authorities ordered people to leave as air quality was expected to worsen.
Wawona, with a population of 1,000 to 2,000 people at any given time, is less than 2 miles (less than 3.22 kilometers) from the fire. The evacuation order included the historic Big Trees Lodge, formerly known as the Wawona Hotel.
The fire has closed campgrounds and trails in the national park since it began a week ago. It was 10 percent contained.
In Montana, 155 National Guard troops arrived to monitor about three dozen security checkpoints in an area south of Missoula that was evacuated due to a fire that flared up after burning since at least July 15.
The fire destroyed two homes and several outbuildings Thursday. It burned an additional 14 square miles Friday and has charred an estimated 44 square miles (113.96 sq. kilometers) of wooded, mountainous terrain west of Lolo.
The troops will relieve law enforcement officers so they can return to other duties.
The Missoulian reported that heavy smoke has settled into valleys and officials warned of poor air quality.
Idaho's two largest wildfires were burning mostly in wilderness areas.
One fire burned 17 square miles (44 square kilometers) in Frank Church River of No Return Wilderness, and another in Gospel Hump Wilderness had burned 21 square miles (54 square kilometers).
In Arizona, officials say charges have been dismissed against Gene Carpenter, 54, who was arrested on suspicion of operating his drone in restricted airspace over a fire in June.
Deputy Yavapai County Attorney Dennis McGrane said new evidence was being investigated.