Evacuation order lifted for Colorado town after wildfire mostly contained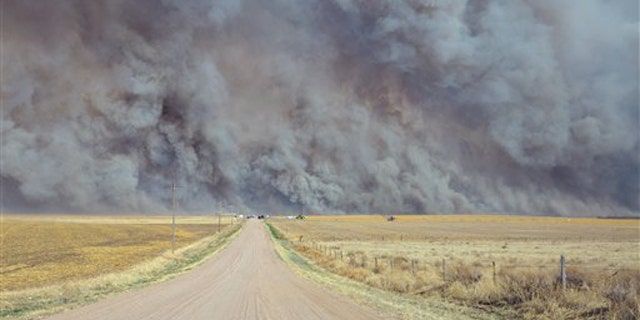 WRAY, Colo. – Evacuated residents of the small Colorado town of Eckley and surrounding areas have been allowed to return home after firefighters contained most of a wildfire on the state's northeastern plains that filled the skies with so much smoke that firefighters couldn't see the flames and a highway was closed.
Three firefighters were injured battling Sunday's blaze, and two of them were hospitalized, Yuma County Sheriff Chad Day said Monday.
The town's 300 residents were given the all-clear to return home about 9:15 p.m. Sunday. On Monday, the order for a 220-square-mile area around the town was lifted near the border of Kansas and Nebraska.
As many as 1,000 residents may have been forced from their homes and were staying with friends and relatives, Day said.
Day was taking an aerial survey of the damage Monday. He said one firefighter suffered burns to the face, a second firefighter was being treated for smoke inhalation, while a third suffered minor burns to the arms. One firefighter was taken to a burn unit at North Colorado Medical Center in Greeley. Hospital officials confirmed a firefighter was hospitalized but refused to release a name or condition.
More than a dozen area fire departments fought the fire, which started at about 1:15 p.m. Sunday south of Yuma and quickly spread toward Eckley, prompting the evacuation.
The wind-fueled grass fire destroyed at least two homes and threatened several others before it was reported 90 percent contained late Sunday night, after scorching parts of an 84-square-mile area.
The wall of smoke and dust was so bad after the fire broke out that some firefighters couldn't see the fire and authorities had to temporarily close a section of U.S. Highway 34 east of Yuma.
A photo from the Yuma Pioneer shows the sky-high plume rising from the plains.
"The smoke is just thick and rising way up into the air," Mike McCaleb, emergency manager in Washington County, said earlier Sunday. With high winds also kicking up dirt, "visibility was nothing."
Chris Foltz, a meteorologist for the National Weather Service office in Goodland, Kan., said the fire was fueled by sustained winds of 30 to 35 mph, and a gust of 62 mph was measured near Yuma at about 4:35 p.m. He said the small town of Kirk just south of the fire experienced a wind gust of 68 mph soon after the blaze started.
Also Sunday, an 80-acre fire east of Colorado Springs damaged three buildings, but no injuries were reported. Edison Fire Chief Mark Anderson said the fire was caused by a downed power line.
The fires follow a week of warm, dry weather that raised the fire danger across eastern Colorado. Smaller fires were sparked along the Front Range, one by a ditch burn that got out of control and another by fireworks.
Denver broke a weather record by hitting 76 degrees on Saturday.