Etan Patz: Pedro Hernandez gets 25 years in prison in 1979 case of missing boy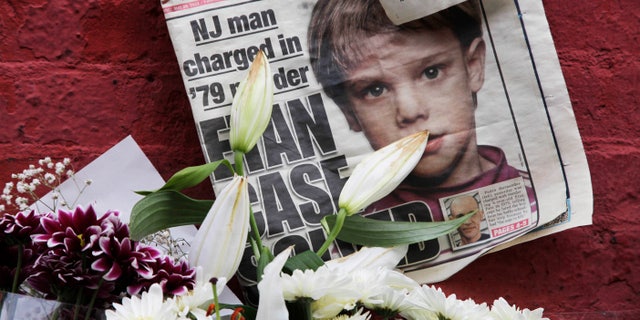 NEWYou can now listen to Fox News articles!
NEW YORK – Almost four decades after first-grader Etan Patz set out for school and ended up at the heart of one of America's most influential missing-child cases, a former store clerk convicted of killing him was sentenced on Tuesday to at least 25 years in prison.
Pedro Hernandez's sentencing was the culmination of a long quest to hold someone criminally accountable in a case that affected police practices, parenting and the nation's consciousness of missing children.
Etan's parents, Stanley and Julie Patz, attended the sentencing and said they will "never forgive" Hernandez for what he did.
"Pedro Hernandez, after all these years we finally knows what dark secret you had locked in your heart," Stanley Patz said. "... The god you pray to will never forgive you. You are the monster in your nightmares, and you'll join your father in hell."
Hernandez didn't look at them.
Defense lawyer Harvey Fishbein said Hernandez was reluctant to stand up in court and speak but had two things he wanted him to say: He wanted to express deep sympathies for the Patz family, but he also wanted to make sure it was clear he's an innocent man and had nothing to do with Etan's disappearance.
Hernandez was a teenager working at a convenience shop in Etan's Manhattan neighborhood when the boy vanished in 1979, on the first day he was allowed to walk alone to his school bus stop.
Hernandez, who's from Maple Shade, New Jersey, confessed to choking Etan. But his lawyers have said he's mentally ill and his confession was false, and they've vowed to appeal his conviction.
Etan was among the first missing children pictured on milk cartons. His case contributed to an era of fear among American families, making anxious parents more protective of kids who many once allowed to roam and play unsupervised in their neighborhoods.
His own parents' advocacy helped to establish a national missing-children hotline and to make it easier for law enforcement agencies to share information about such cases. The May 25 anniversary of his disappearance became National Missing Children's Day.
From the start, the 6-year-old's case spurred a huge manhunt and an enduring, far-flung investigation. But no trace of him has ever been found. A civil court declared him dead in 2001.
Hernandez, now 56 years old, didn't become a suspect until police got a 2012 tip that he had made remarks many years before about having killed a child in New York.
Hernandez then confessed to police, saying he'd lured Etan into the store's basement by promising a soda, then choked him because "something just took over me." He said he put Etan, still alive, in a box and left it with curbside trash.
"I'm being honest. I feel bad what I did," Hernandez said in a recorded statement.
His lawyers say he confessed falsely because of a mental illness that makes him confuse reality with imagination. He also has a very low IQ.
The defense also pointed to another suspect, a convicted child molester whom some investigators and prosecutors -- and even Etan's parents -- pursued for years. That man made incriminating statements to authorities years ago about Etan but denied killing him and has since insisted he wasn't involved in the boy's disappearance. He was never charged.
Hernandez's February conviction came in a retrial. His first trial ended in a jury deadlock in 2015.