Escaped zebra charges Florida homeowner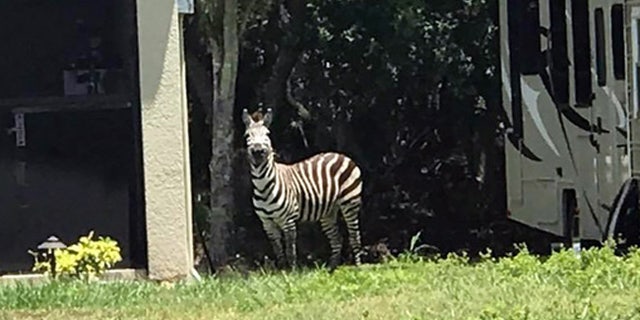 An escaped zebra wreaked havoc on a Balm neighborhood Friday - startling several homeowners, escaping deputies, and injuring a driver after running into a vehicle.
The first reports of zebra spottings came just after noon from Wimauma homeowner Mark Ross.
Ross says he was letting his dogs out into his backyard when he was confronted with a blur of black and white stripes.
Traffic Crash - A Ford F150 p/u was W/B on 672 just E of Amber Sweet Ln when the Zebra which escaped from private property ran into the p/u pic.twitter.com/QcyaodpjdU

— HCSO (@HCSOSheriff) May 5, 2017
Ross told FOX 13 the zebra was grazing behind his RV, but when he and the dogs came outside, the zebra darted toward him and almost ran him over. He recorded a video showing the zebra galloping through several yards.
HALF-BLIND KENTUCKY DERBY HORSE NAMED PATCH HAS EYE ON ROSES
"How many times do you go out in your backyard and see a zebra?" Mark asked with a laugh.
Not often.
Ross said deputies were on the scene within minutes. Several people tried to help block the zebra into Ross' eight-house neighborhood, but it managed to escape.
Shortly after, the zebra was spotted trotting along the south side of 672 near Amber Sweet Lane. The driver of a Ford F150 said the zebra ran into the driver's side of their truck, shattering the side mirror glass and sending shards flying.
Click here for more from Fox 13.