Escaped NJ killer ran from troopers after apparently planning to surrender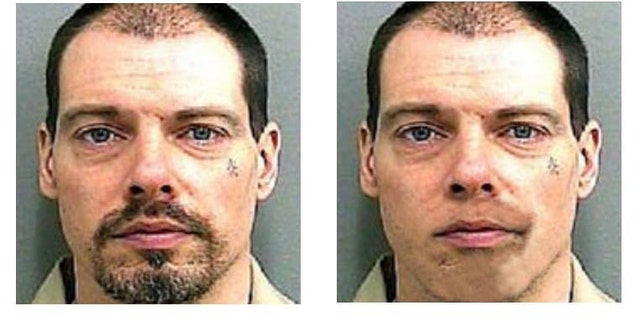 NEWYou can now listen to Fox News articles!
The manhunt for an escaped inmate in New Jersey intensified Monday when he walked away from a rest area after apparently making arrangements to surrender.
Arthur Buckel, 38, was captured on surveillance video late Sunday at a rest area off the Garden State Parkway, Lacey Township police said.
The state police said Buckel had indicated a desire to turn himself in and was making arrangements through his family to do so at the rest area. But he was gone by the time state troopers arrived, police said.
Armed officers combed through the wooded area because it was believed Buckel, who once served time for manslaughter for killing a baby, headed north on foot. But his whereabouts early Monday were unknown.
Extra police officers were stationed at nearby schools on Monday and students would not be permitted outside.
Surveillance images showed Buckel wearing a plaid shirt with what appeared to be a knapsack slung over his chest.
Buckel was found to be missing last Tuesday when guards did a count at the Ancora unit of Bayside State Prison in Hammonton.
Lacey Township is about 50 miles northeast of Hammonton.
Buckel had been serving a sentence for aggravated assault, drug possession and burglary. He was scheduled to be considered for parole later this month.
Buckel previously served 14 years in prison after pleading guilty to aggravated manslaughter of a 10-month-old child.