Eric Garner protests lead to numerous arrests in New York City, reports say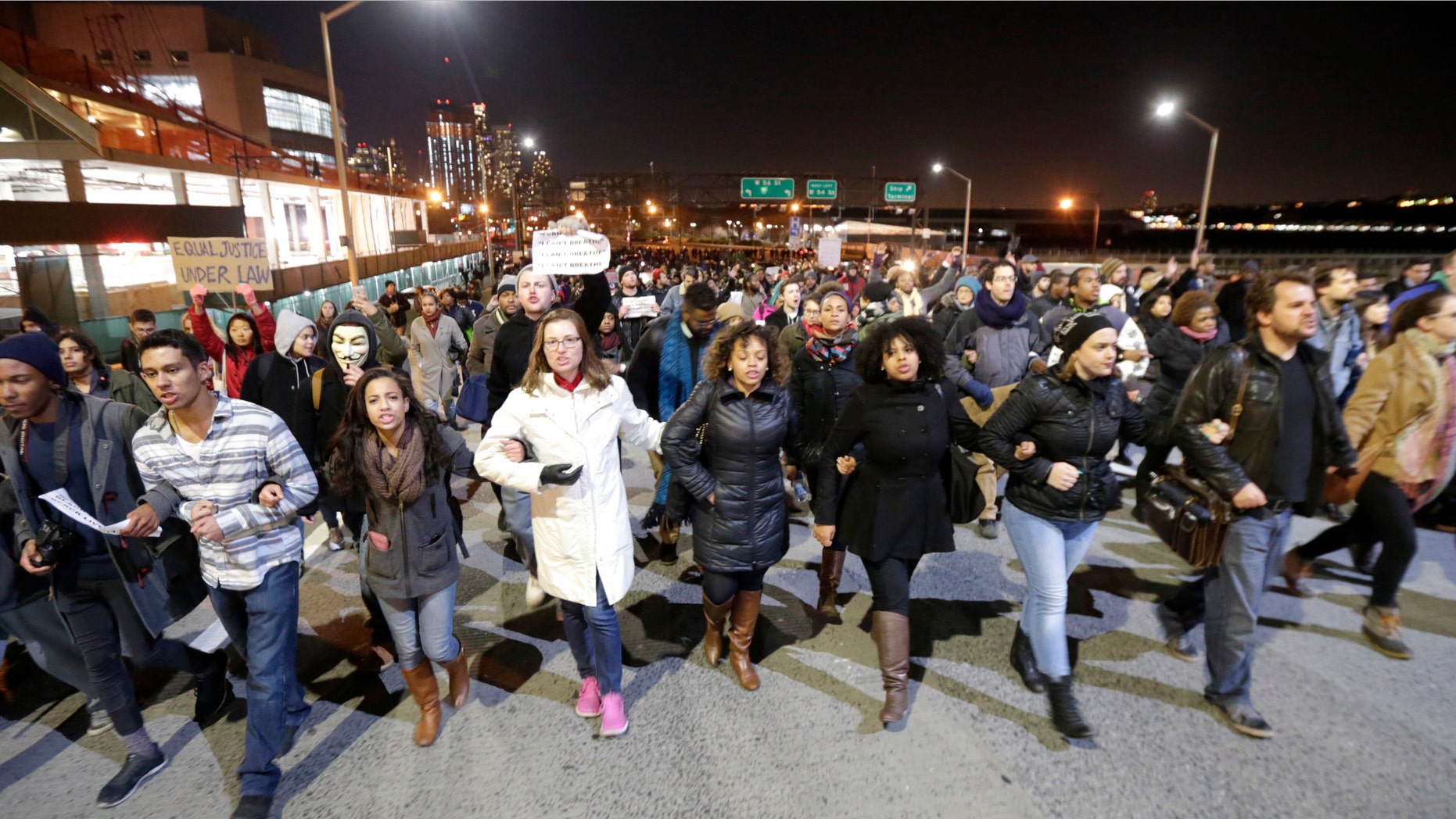 Protests gripped New York City for the second straight week in wake of another grand jury decision not to indict a white officer for killing an unarmed black male in Staten Island.
At least 78 arrests were made in the city as protests marched through Manhattan throughout the night, the New York Post reports.One car, an officer's personal automobile, was torched in Brooklyn, but it was not known whether it was related to the protests.
Peaceful afternoon protests in the city turned furious as protesters chanted "no justice, no tree" as onlookers watched in Rockefeller Center during the annual tree lighting event. The police kept the group at bay in order for the event not to be disrupted.
By 5:30 p.m. in Times Square, about 300 protesters had peacefully congregated to criticize the grand jury's decision, as dozens of uniformed New York City police officers looked on. Protesters chanted: "I can't breathe!"; "No justice, no peace!"; "How do you spell racism? NYPD!"; "This is resistance!
The angry mob attempted to push through a barricade on Sixth Avenue and West 52nd Street in New York City, but cops were able to keep the protesters back.
Police again were able to hold another attempt by a different group of protesters to try and disrupt the tree lighting ceremony.
Protesters continued to march down onto the West Side Highway in Manhattan shutting down traffic during the rush hour commute. Demonstrators also were met by orange barricades at the Lincoln Tunnel.
At midnight, nearly 1,000 protesters were escorted onto the Brooklyn Bridge where they sat down and did not move.
In the afternoon, demonstrations began to bubble up around the city. A Twitter hashtag, #ShutItDown, called on protesters to stop the tree lighting. A "die-in" was held at the main concourse of Grand Central Station in Manhattan, though MyFoxNY.com reported that protesters were not blocking commuters and no arrests were being made.
Ashley Coneys, 25, a self-described "person of color," lives several neighborhoods away from where Garner was killed in Staten Island. She said she was more shocked by Wednesday's development in the Garner case than a grand jury's decision not to indict a white Ferguson, Mo. police officer in the death of unarmed black teenager Michael Brown.
"If officers never have to account for killing people of color, where's the justice?" she told FoxNews.com. "Police are supposed to make us feel safe, but we don't have a relationship where we feel safe."
Another Times Square protester, Nadya Stevens, 31, said she was skeptical that a NYPD pilot program to have police officers wear body cameras would prevent deaths at the hands of cops.
"If there was a camera on Eric Garner as he was being killed, I don't know what body cameras are going to do," Stevens told FoxNews.com, adding that the issue goes beyond race and is a matter of police force.
Protests sprung up across the nation as well.
Protesters in Oakland, Calif. began moving through the city and were met by a line of officers in riot gear before reaching the police department, KTVU reports.
In Denver, more than one hundred protesters marched downtown. Denver Police made four arrests during the protests, the Denver Post reports.
One person was arrested for obstructing a roadway, two were arrested for obstruction and another for interference.
FoxNews.com's Karl de Vries and The Associated Press contributed to this report