Energy in America: Connecticut Residents Left Without Electricity Spark Power Line Debate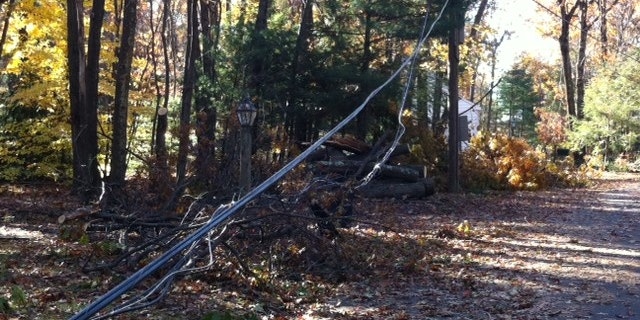 As electricity crews in Connecticut work around the clock to restore power to frustrated and fed up residents left in the cold after a rare October snowstorm took out trees and utility lines, many are wondering if burying all the power lines underground might solve the problem of power outages.
As of Wednesday afternoon, more than 4,800 Connecticut Light & Power customers were still without power, which forced many into hotels and the homes of family members and friends to wait it out. After Hurricane Irene, the governor of Connecticut appointed a special task force to look into solutions to evaluate power options for the state, along with the emergency response time it took for crews to get the power back on.
Putting more power lines underground, out of sight, and out of the way of trees, is an option the task force will discuss at a meeting today, and the commissioner of the Connecticut Department of Energy and Environmental Protection tells Fox News the state is taking the issue seriously.
Commissioner Dan Esty says, "We need to think very fundamentally about how we distribute electricity. It's a hundred year old technology, stringing wires across poles, and I'm not sure that that's the right answer for the 21st century. So our Department of Energy and Environmental Protection has got a team digging in very hard and we are exploring all the options."

While above-ground lines are susceptible to wind and heavy snow, underground lines can be hit hard with flooding, and pinpointing the problem is not always as easy as looking up to damaged power poles to spot an issue. If there is an outage, crews have to dig underground to find the source, which takes time and money according to energy experts. Ted Kury, the Director of Energy Studies at the Public Utility Research Center at the University of Florida, says by going underground, electric companies aren't really removing the risk of damage, they are simply shifting it.
"There is no silver bullet solution for underground versus overhead," says Kury, "It is a tradeoff between costs and benefits and we have to make sure that the benefits to the consumer and to the utility outweigh the costs."
Connecticut Light & Power's Katie Blint says the installation of the wires underground costs a minimum of $1 million per mile, and that restoring power to customers with underground lines can be more complicated and often more expensive.
The above ground versus underground debate isn't exclusive to electricity concerns. The same problem exists for phone, cable and Internet lines, many of which were taken out of service during the storm ... both above and below ground.