Elephants wait for ride on Oklahoma highway after trailer stalls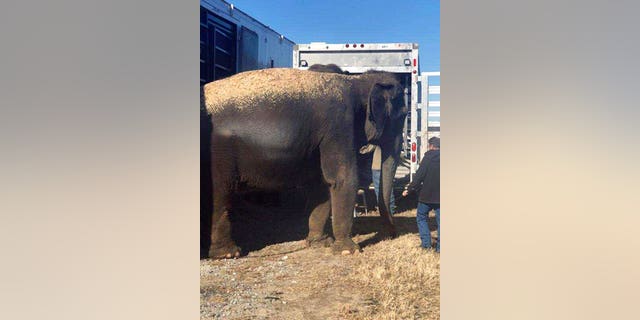 Four circus elephants who were hitching a ride, possibly to their next gig, blocked a lane of a busy Oklahoma highway on Wednesday when the floor of the truck transporting the animals began to cave.
The trailer hauling the pachyderms, owned by Carson & Barnes Circus, broke down just before 2 p.m. on U.S. Route 69 near Eufaula, roughly 120 miles east of Oklahoma City, Oklahoma Highway Patrol Lt. Jarrett Johnson said.
The vehicle's floor began to collapse from underneath the elephants, which People for the Ethical Treatment of Animals (PETA) sharply criticized.
"Because of this notorious circus's total disregard for animals' well-being, PETA urges everyone to stay away from acts and exhibitions that put exotic animals on display and risk their lives on the road," PETA's Rachel Mathews said in a statement Thursday.
'GRANDMA THE CLOWN' RESIGNS FROM BIG APPLE CIRCUS FOR PHOTOGRAPHING ACROBAT, 16, PORNOGRAPHICALLY
A towing company worked to move the stalled trailer from the highway, which reopened two hours later, around 4 p.m.
A veterinarian helped to move the elephants, and, according to a spokesperson for the circus, they appeared to be fine. The elephants were transferred to another trailer to meet with the veterinarian, before they relocated to a third trailer to take them to Iowa.
Oklahoma Trooper Dwight Durant said the floor of the trailer carrying the elephants was dragging on the road, and sparking grass fires along the way.
"Usually here in Oklahoma it's cows or pigs that are in the road," Durant said. "But I don't know that I've ever dealt with any elephants before."
Wednesday's incident on U.S. 69 wasn't the first time Carson & Barnes has experienced difficulty with elephants.
In June 2017, a female elephant named Kelly got loose at Circus World Museum in Baraboo, Wisconsin, leaving to roam a residential neighborhood, a report from the U.S. Department of Agriculture shows.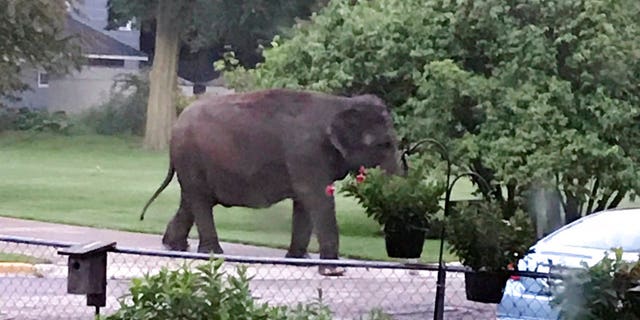 The department stated in a July 6 document that the elephant could've been injured or hurt people.
A spokesperson with Circus World told The Associated Press that another female elephant, Isla, used her trunk to disengage a restraint, which allowed Kelly to cross a shallow river and wander into a yard.
Kelly, in her few hours of freedom from circus life, unlatched a gate and ate some marigolds.
Circuses have been under increased scrutiny in recent years from animal rights activists who claim forcing animals to perform and transporting them around the country amounted to abuse. The famous Ringling Bros. and Barnum and Bailey Circus removed elephants of its shows in May 2016.
The Associated Press contributed to this report.