Edward J. 'Babe' Heffron, of 'Band of Brothers' fame, dies at 90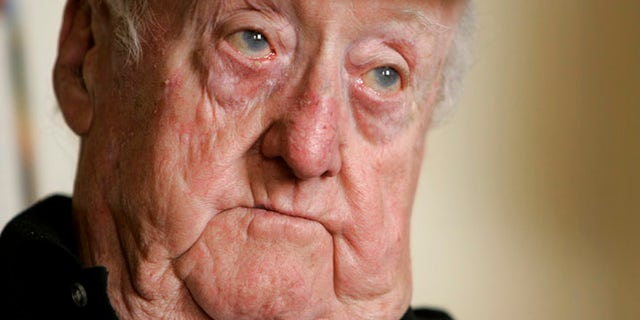 To the end, Edward James "Babe" Heffron insisted that he wasn't a hero, that his service in World War II was simply part of an obligation to serve his country in a time of need.
But when fame followed him in the wake of Stephen Ambrose's book "Band of Brothers" and its HBO miniseries, Heffron, who died Sunday at the age of 90 after a short battle with colon cancer, used it to praise the sacrifices made by countless men and women during America's most trying times.
[pullquote]
"He felt the heroes were the moms who sent their kids off and the guys who never came back," Ed Zavrel, Heffron's son-in-law, told FoxNews.com Tuesday night. "Babe didn't consider himself a hero, just a guy who did his job."
As a paratrooper in Company E, 506th Parachute Infantry Regiment, 101st Airborne Division, Private Heffron joined Easy Company shortly after the Normandy invasion and participated in some of the war's fiercest battles, including the Battle of the Bulge in Belgium. He received a Bronze Star and a Purple Heart.
After the war, Heffron returned to south Philadelphia, his hometown, where he found work at a whiskey distillery and later checked cargo on the Delaware River waterfront.
Like many veterans of his era, Heffron never spoke about the war, and if it wasn't for Ambrose's book, his family might never have learned about his service.
But after the book -- which documents Easy Company's harrowing engagements and prominently features several soldiers, including Heffron -- was published in 1992, and especially after the miniseries aired in 2001, Heffron became something of an icon for a generation that went to war. He was featured in interviews for the miniseries (in which he was portrayed by Scottish actor Robin Laing) and participated in a 2008 USO tour to the Middle East.
Along with one of his comrades, William "Wild Bill" Guarnere, and journalist Robyn Post, Heffron also wrote a 2007 memoir called "Brothers in Battle, Best of Friends."
Walking around Philadelphia in his airborne jacket and hat, Heffron would often be stopped by people thanking him for his service, Zavrel said. Heffron made regular appearances at local schools, where he would spend hours with children telling stories about the war and general "life lessons," Zavrel added.
As news of Heffron's passing spread early this week, many paused to offer their condolences.
Actor Tom Hanks, who co-executive produced the miniseries, posted a photo of the 101st Airborne's "Screaming Eagle" patch on his WhoSay account.
"In honor and memory of Babe Heffron and Earl McClung," said Hanks, the latter a sergeant who served alongside Heffron in Easy Company who passed away last month. "Farewell, Brothers. Hanx."
Heffron is survived by his wife, Dolores Heffron, and their daughter, Patricia Zavrel. Funeral arrangements will be private, and some of Heffron's former comrades were expected to attend.
The family is "holding up as well as can be expected," an emotional Ed Zavrel said. But in following Heffron's example, they're intent on making sure "Babe" is properly honored.
"Babe didn't want any fanfare," Zavrel said. "He was never one for tears. He said you got to do what you got to do."
The Associated Press contributed to this report.