'Edgy' Urban Outfitters' holiday mailing drops barrage of F-bombs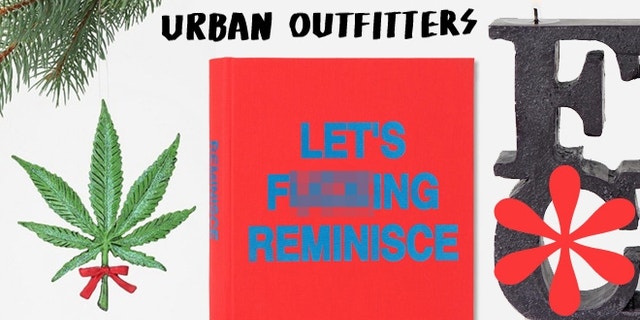 American mall fixture Urban Outfitters put itself on the naughty list with a holiday catalog that pushes profanity-laced products, including a $24 candle that uses the f-word in the form of the iconic LOVE sculpture.
The retailer, whose efforts to be edgy have raised the ire of parents groups in the past, is now trying to connect with the younger crowd by hawking an $18 "Let's f------ reminisce" book, a $16 "It was all f------ awesome" photo album and a profane candle that would make your grandmother blush.
[pullquote]
A quick look at the retailer's website reveals even more questionable products, including:
— an $18 flask emblazoned with the words: "That s--- cray";
— BYOB Gummi bears;
— an $8 "Merry Christmas b-tches" mug;
— a "stick 'em up iPhone stand" that uses a tiny, plastic gun as a cellphone accessory.
The items — and the catalog now hitting mailboxes around the country — may strike a chord with the target audience. But the company's detractors say it is all part of a cynical marketing plan.
"This really isn't anything new for them," said Monica Cole, director of the American Family Association's One Million Moms division. "Their catalog has offensive profanities on products and little knickknacks, T-shirts -- you name it. And so many teenagers shop there."
Cole said the company "consistently" uses profane language in its merchandise and has been on AFA's watch list for at least three years. AFA contacted Urban Outfitters several months ago for inappropriate pictures in its catalog and last year for graphic content on its apparel, she said.
"They use it consistently," she said. "We're asking them to clean up their website and catalog. They are offensive."
Rob Schwarzwalder, senior vice president of the Family Research Council, said the advertisements are proof of the "increasing prevalence" of obscenities in pop culture.
"Years ago, then-Senator Daniel Patrick Moynihan (D-NY) warned that our society is 'dumbing deviancy down,'" Schwarzwalder said in a statement to FoxNews.com. "The increasing prevalence of obscenities in popular culture vindicates his concern. Historically, we have avoided the public use of foul language because of an unspoken understanding that the religious faiths of our fellow citizens merit respect and because of a recognition that debasing sexual intimacy through the use of expletives diminishes women and coarsens our attitudes toward one another."
Schwarzwalder's statement continued: "It is especially ironic that at a time of year when reverence for the birth of God's Son should animate renewed humility and civility that a major retailer would, instead, cheapen itself and its customers through the use of barnyard epithets."
Messages seeking comment from company officials were not returned, but marketing experts contacted by FoxNews.com said the company is playing to its market.
"The people who would be offended are not their customers and the people who do think it's cool are their customers," said Jack Trout, president of Connecticut's Trout & Partners. "It gives them an edge of coolness."
Trout, who had no issue with the heavy sprinkling of profanities, said words that were previously taboo have largely become commonplace.
"There is no bottom to America," he said. "We will continue to move in this direction. We will become looser and looser."
Paul J.J. Payack, president and chief word analyst of The Global Language Monitor, compared the F-bomb to the word "suck," particularly in how it has become more accepted over time in some venues.
"It used to be an awful word, no one would say it," Payack told FoxNews.com. "But it has transformed from a word that was offensive to one that's more and more accepted. That change happened over a generation."
Urban Outfitters likely used the word for its "shock value," Payack said.
John Tantillo, a marketing expert and host of WVOX's "Brandtalk" radio show, said he saw no problem with the profanities, characterizing it as a "win-win" for Urban Outfitters.
"College students really don't care about using salty language and it's great publicity to those who object to it," Tantillo told FoxNews.com. "So, it's perfect, and if they wanted to discontinue the items they could, but it got guys like me to talk about it – so it's very smart."
Tantillo said the Philadelphia-based chain with 400 locations nationwide across five retail brands (Urban Outfitters, Anthropologie, Free People, Terrain, and BHLDN) is savvy to market directly to the customers it targets most: teenagers and young adults.
"Remember, when you talk about your brand, it's all about your customers," he said. "Not the parents of your customers."