East Palestine train disaster: Former Norfolk Southern engineer blames reduced safety protocols
Retired Norfolk Southern engineer tells Fox News changes seen across the rail industry have threatened safety
MONROEVILLE, Pa. – A recently retired Norfolk Southern engineer, who worked the very same rail route where the horrific derailment unfolded last month in East Palestine, Ohio, says it could have been prevented had the industry not seen a reduction in safety protocols.
"It was very likely due to not having enough time given to the car inspector at the originating point to be able to fully assess that car or any of the other cars and train, for that matter… They used to have between five and eight minutes to inspect a car," Scott Wilcox of Avonmore, Pennsylvania, who retired from an 18-year career with Norfolk Southern in July of last year, said in an interview with Fox News.
"But now, from what I've heard from car inspectors, is they're down to like between 30 seconds to a minute. So, they may not have time to check everything. The length of some of these cars, it'll take you 30 seconds just to walk the length of it."
Wilcox says that if they had more time inspecting the train cars that left Madison, Illinois, along the Fort Wayne rail line, the derailment could have been avoided.
SEE IT: EAST PALESTINE RESIDENT POSTS PHOTOS OF RESIDUE ON WALLS, SAYS HOUSE 'REEKS' OF CHEMICAL SMELLS
"This particular car that caused the derailment at East Palestine, more than likely, the lubricant would have been leaking out of that bearing," he said. "If the inspector had the time, he would have spotted that and possibly could have gotten it sent to the car shop to get that wheelset replaced."
He described it as "something as simple as giving an extra five to ten minutes."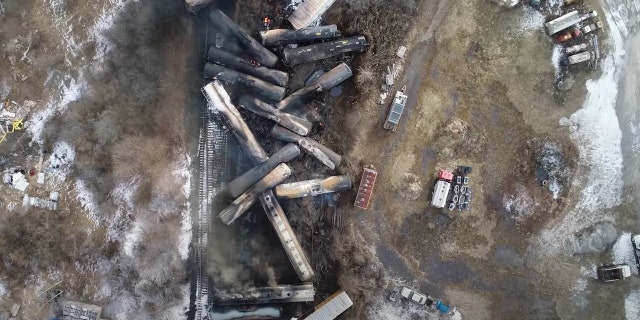 The retired engineer, who worked for Norfolk Southern for 18 years, said there were times he had reservations about bringing his trains out on the rail.
"It's very concerning when you're in charge of a train that, you know, you're not sure how good your engines have been maintained," he told Fox News. "You're not too sure how well the cars have been maintained. And it wears on you. It creates a stress level. That's pretty incredible, along with everything else."
In addition to reduced inspection times, the rail crews for Norfolk Southern, including Wilcox during the last few years of his career, have experienced less turnaround time between jobs, leaving them with less time for rest and relaxation to ensure that they are alert when transporting large amounts of freight across the country.
"A lot on the job are overworked and away from home," he added. "You might go to work at 3 in the afternoon. Your next train… You might be called at 1 in the morning, day after day. You're called whenever they need you or not. There's no scheduling to it."
He continued, "Your sleep rhythms are nonexistent. You don't really go to sleep fully because you're worried about missing that phone call. Because if you missed the phone call, you might get taken out of service and that affects your money and your life."
EAST PALESTINE TRAIN DERAILMENT SITE WORKERS ARE GETTING SICK, UNION SAYS
It was the evening of Feb. 3 when the 38 cars from the Norfolk Southern freight train derailed in the small northeastern Ohio town. Twenty of them contained hazardous materials, including vinyl chloride and other combustible elements.
Despite state and local officials' assurance of safe air and water levels, people living in East Palestine have expressed concerns about the health hazards posed by the burning of hazardous chemicals on site. Many people reported experiencing symptoms such as nausea and dizziness after the plume of thick black smoke rose into the sky.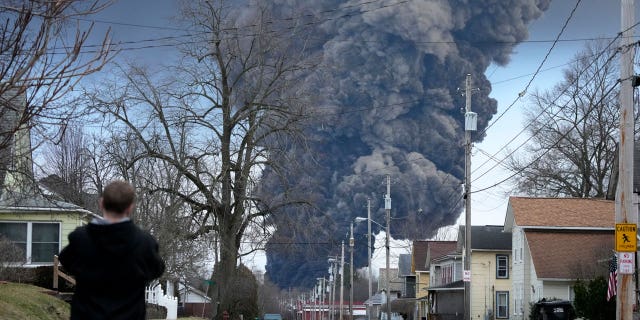 Many within the industry have spoken out since the derailment, saying it was the result of Precision Scheduled Railroading (PSR), a freight rail concept that many companies, including Norfolk Southern, put into place years ago.
Under PSR, freight trains run on a regular schedule, like passenger trains, instead of just running when there are enough loaded cars. Previously, intermodal freight and general merchandise trains were operated as separate entities. The effect often leads to reduced operations and costs due to its efficiency.
Since PSR allows for fewer workers to handle higher traffic volumes, over 20,000 railroad workers were laid off across the industry in 2019. It's been estimated by the Surface Transportation Board that the industry's workforce was reduced by a third in 2022 compared to 2018.
PSR has faced criticism on several fronts. Shippers have expressed dissatisfaction with poorer service and delays, while railroad workers have voiced safety concerns. They claimed PSR has led to reduced inspections and staffing, making them worried.
"PSR is not about fail-safes or making sure that there are no accidents. PSR is about getting the very last cent that you can out of this resource, and that's the whole point of it. The whole point is to enrich the owners of the stock," Marilee Taylor with Rail Workers United, an advocacy group fighting on behalf of rail industry workers, told Fox News. "Part of PSR is their attendance policies. You have people who are absolutely exhausted, exhausted to the point where they are more dangerous than a drunk driver in terms of reaction time."
Taylor continued, "It's very, it's a dangerous occupation. We need to be on our game not only for our own safety and our coworker's safety, but that of the communities we live in, and we traverse our trains through."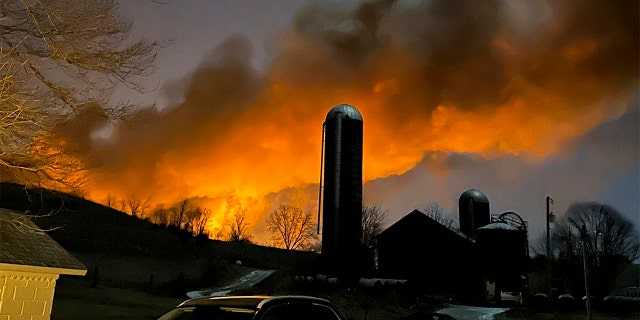 Officials with the Association of American Railroads said PSR has had no major impact on safety within the industry, which is one of the most regulated in the U.S., adding that data showed safety in key areas, including hazmat incidents, has trended upward over the past decade.
"Railroads are unequivocally committed to safety," read a statement from an AAR spokesperson provided to Fox News. "It is the foundation for all the industry does alongside a private network supported by billions in private investment each year. A well-maintained network is a safe network."
Officials from Norfolk Southern told Fox News that in 2022, the company had fewer derailments compared to any other year in the last decade, and the total number of accidents has dropped by 32%.
"We've been clear," Connor Spielmaker, a spokesman with Norfolk Southern, said in a statement provided to Fox News. "We're taking a hard look at our operations to identify areas where we can make Norfolk Southern an even safer railroad. A first step in that was immediate actions taken after the NTSB's [National Transportation Safety Board] preliminary report from East Palestine."
SCIENTIST SAYS NATURE'S 'SKELETON KEY' COULD BE SOLUTION TO TOXIC CHEMICAL SPILLS AND SAVE EAST PALESTINE
Earlier this month, Norfolk Southern also announced a six-point safety plan to enhance its current operations.
"It's a starting point – and we continue cooperating with the NTSB and FRA [Federal Railroad Administration] on their investigations to identify where we can become even safer," Spielmaker said, adding they also were moving away from a sole focus on operating radio, something closely tied to the criticisms associated with PSR.
"We will continue to be efficient with all of our resources to deliver a safe and reliable service product to deliver for the U.S. economy and retain our employees," he added.
Wilcox said he believed Norfolk Southern was doing the best it could in its response to the derailment and the cleanup of the region, but still believed it could have been avoided.
CLICK HERE TO DOWNLOAD THE FOX NEWS APP
"If the proper safety protocols had been followed, going back to the way that things were done on the railroad before PSR, that car probably would have been caught, either during the initial inspection or possibly en route. Maybe before," he said.
"We [rail crews] are doing everything that we can to do our job safely and efficiently, and we're not given a lot to work with. They're taking more and more from us. They're taking the time that it takes to do it safely away from us."