East Coast to face 'significant' storm for Christmas getaway, bringing severe weather, flood threat
A strengthening storm system along the Gulf Coast is expected to create travel headaches across the East Coast on Friday as millions of Americans begin their journeys for the Christmas holiday.
The National Weather Service said the "significant" storm system is expected to bring severe thunderstorms over the Southeast beginning Thursday, and heavy rain and flooding into the Northeast on Friday.
"We could have strong to severe storms across the Southeast including strong winds and even a few tornadoes along with heavy rain and flooding," Fox News Senior Meteorologist Janice Dean said Thursday. "That will spread into the Mid Atlantic to the Northeast."
CLICK HERE TO GET THE FOX NEWS APP
The storm will be more of a wet storm than a white snowstorm because a warm front will surge into the area, bringing record mild temperatures into the Northeast.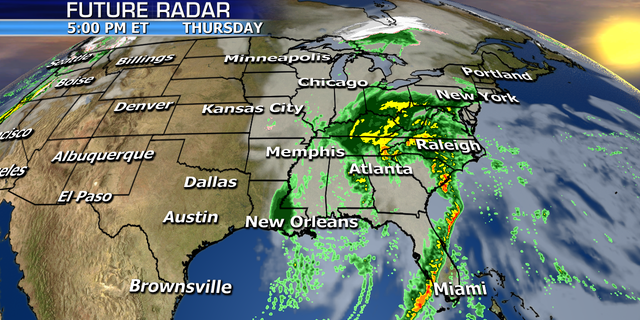 Flood watches have been posted have been posted from Virginia into New England where widespread rainfall of up to 3 inches is expected. Coastal flooding will also be an issue.
The NWS said that widespread flooding may be possible throughout the region because many locations have set new records for the wettest year in recorded history, including in Washington D.C.
"The most widespread problem from this storm will be related to drenching rain," AccuWeather Senior Meteorologist Brett Anderson said.
"Flood watches are in effect for much of the east -- turn around, don't drown," the NWS said.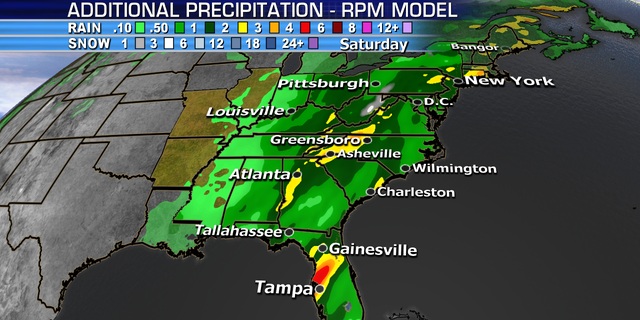 The storm comes during what is expected to be a record-breaking holiday travel season. More than 110 million people are expected to take to the roads and air, according to AAA.
WHAT IS A POLAR VORTEX? A LOOK AT WHAT COULD BE IN THE FORECAST THIS WINTER
INRIX, a global mobility analytics company, predicts travel times in the most congested cities in the U.S. could be as much as four times longer than a normal trip, according to AAA.
Rain will be falling in New York City on Thursday during the time period that congestion will be the worst in the area, between 9:30 and 10:30 p.m., according to the group.
As the East Coast deals with the storm, Americans on the West Coast are also in for an active weather pattern into the holiday weekend.
"The active weather continues out West, with a series of Pacific storms bringing heavy mountain snow, strong winds, and heavy rain along coastal locations," Dean said.