Earth science teacher, 38, arrested on 'multiple sex charges' with her underage student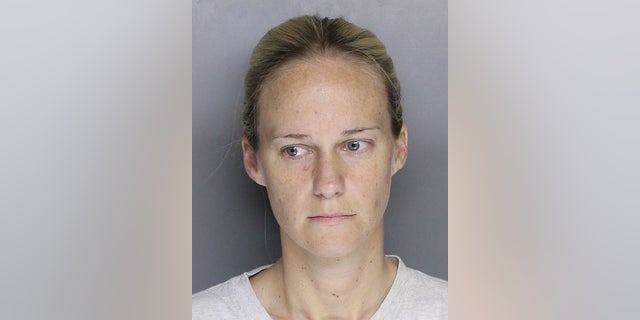 Pennsylvania school officials said Friday that a high school teacher has been charged with eight felonies including institutional sexual assault that included a student.
Melissa Bonkoski, 38, an earth science teacher at Owen J. Roberts High School in Pottstown was charged with eight felonies on Thursday. The charges include "three counts of institutional sexual assault, three counts of unlawful contact with a minor; one count of corruption of minors and one count of criminal use of a communication facility," according to the Daily Local.
Bonkoski allegedly became "obsessed" with a 16-year-old student and used a "burner phone," or a prepaid phone, to talk to him.
"Whatever you do, please don't shut me out," Bonkoski texted the student in March, according to the Daily Local. "I'm begging you."
Bonkoski told a Pennsylvania State Trooper that she "thought she was being smart" to use a burner phone so officials could not trace it back to her.
Bonkoski is slated to appear for a preliminary hearing Thursday. Bonkoski posted $80,000 bond herself. The charges date back to Dec. 1, 2015, according to court records.
Bonkoski allegedly allowed the teenage student to kiss her and touch her breasts, according to a criminal complaint. The complaint that was received by county Detective Christine Beiler said the teenager was receiving "harassing text messages" from the teacher.
"He was worried that he wouldn't get rides home anymore if he stopped kissing [Bonkoski]," according to the complaint. The student said that he had slept over at Bonkoski's house and the two spoke about oral sex. He claimed he tried to cut off contact with the teacher but she continued to call him.
MIDDLE SCHOOL PE TEACHER, 40, ARRESTED FOR SEX ROMP WITH TEEN BOY STUDENT
Bonkoski was interviewed on July 11 about her relationship with the student by a state police trooper. Troopers said she "admitted to her conduct with the teenager," the affidavit stated.
The case is currently being investigated.
The Owen J. Roberts School District was informed of the charges Friday and have since deleted Bonkoski's about me page from their website. The district asked the woman to resign.
"Upon learning of the filing of these charges, the school district asked for, and received, Bonkoski's immediate resignation from her employment as a teacher," Anthony Costello, the district's acting superintendent, told the Daily Local.
Costello asked "any community members who are aware of information related to these criminal charges to report it to the school district or the Chester County Detective's Office."
MARRIED TEACHER AND MOTHER, 53, ACCUSED OF 'TRAILER PARK SEX' WITH HER TEEN BOY STUDENT
"[The district] will not be providing any further public comment at this time due to the prosecution of the active criminal case," Costello said. Bonkoski was in her "second year teaching earth science" at the school and had previously taught in Miami, Fla. and West Philadelphia, according to her biography page on the district's website.