Dylann Roof convicted in Charleston church massacre
A jury in South Carolina Thursday convicted Dylann Roof in the shootings that killed nine black church members during a Bible study in Charleston last year, a verdict that could lead to a death sentence for the self-avowed white supremacist.
The jury of nine white people and three black people deliberated less than two hours before returning a verdict, finding him guilty on all counts against him. Roof, 22, faced 33 federal charges, including hate crimes and obstruction of the practice of religion.
DEATH ROW INMATE'S LAWYERS SAY THEY'D PREFER FIRING SQUAD OVER LETHAL INJECTION
Roof just stared ahead as the verdict was read, much as he has throughout the trial. Victims's relatives held hands and squeezed one another's arms. One woman nodded her head every time the clerk said "guilty."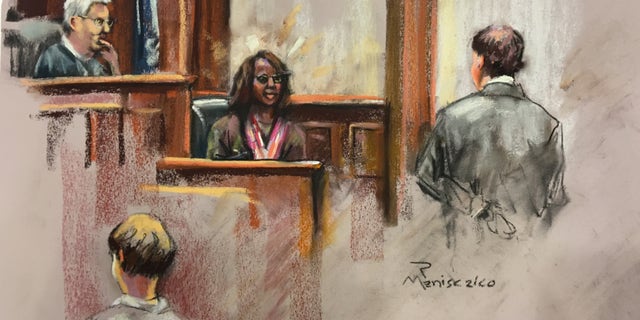 The same jury is set to return Jan. 3 to consider whether Roof should be sentenced to die for the June 2015 attack at Emanuel AME Church. He is slated to face another death penalty trial in state court early next year.
DEADLY TENN. SCHOOL BUS CRASH CASE HEADS TO GRAND JURY
Minutes after the verdict was read, Roof told U.S. District Judge Richard Gergel he wanted to represent himself during the penalty phase.
He said at the start of the trial that he wanted attorneys in the guilt phase, but not in the penalty phase. His lawyers said in a court filing they feared he wanted to avoid embarrassing testimony that the defense might have presented to try to get a jury to spare his life.
"It is my hope that the survivors, the families & the people of South Carolina can find some peace in the fact that justice has been served," Gov. Nikki Haley tweeted.
The verdict came after days of emotional testimony from people who survived the shooting and witnessed the aftermath. During closing arguments earlier in the day, Assistant U.S. Attorney Nathan Williams told jurors Roof waited until the Bible study group had its eyes closed for prayer before he opened fire.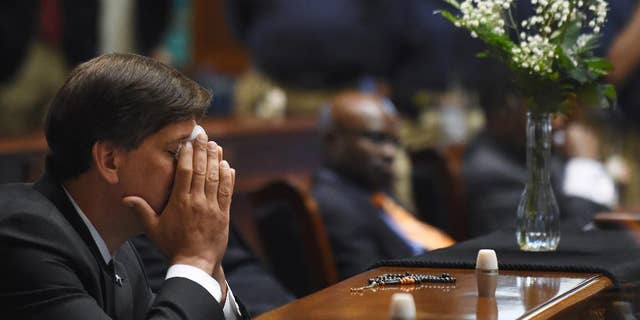 Williams said Roof, who posed in photos with the Confederate flag that appeared in a racist manifesto, believed black people were animals and less than human when he violated the sanctuary of the church and killed nine people. "Those people couldn't see the hatred in his heart any more than they could see the .45-caliber handgun and the eight magazines concealed around his waist."
Roof did not react to Williams' arguments.
Defense attorney David Bruck conceded in his closing argument that Roof killed the victims, and the attorney even praised the FBI investigation. But Bruck also argued Roof was a suicidal, impressionable loner who never grasped the gravity of what he did.
Roof was just imitating what he saw on the Internet and believed he had to give his life to "a fight to the death between white people and black people that only he" could see and act on, Bruck said.
In his confession to the FBI, Roof said he carried out the killings after researching "black on white crime" on the internet. He said he chose a church because that setting posed little danger to him. Prosecutors said he hoped the shootings would trigger a race war or bring back segregation.
Instead, the single biggest change to emerge from the massacre was the removal of the Confederate flag from the South Carolina Statehouse, where it had flown for 50 years over the Capitol or on the grounds.
During their brief deliberations, jurors asked to see certain parts of the confession video during which Roof discussed how many people he had killed.
Williams showed crime scene photos of each person killed alongside a small picture of them while alive.
Those pictures included the Rev. Clementa Pinckney, 41, Emanuel AME's pastor and a state senator; Myra Thompson, 59, who taught Bible study that night -- the same night she was licensed to preach; Cynthia Hurd, 54, a librarian who stayed to support Thompson; Depayne Middleton-Doctor, 49, who friends said sang like an angel and was also license to preach the day of the shootings; Daniel "Dapper Dan" Simmons, 74, nicknamed for his shiny shoes and fine hats; Sharonda Coleman-Singleton, 45, a high school track coach heavily involved in the church's youth programs; Ethel Lance, 70, the church sexton who kept the bathrooms and building immaculately clean; Susie Jackson, 87, who sang in the choir and sent generations through the church; and Tywanza Sanders, 26, Jackson's nephew and an aspiring poet who wanted to work with children.
Fox News' Jonathan Serrie, Multimedia Reporter Terace Garnier in Charleston and The Associated Press contributed to this report.