Dylann Roof asks court for new lawyers, says race makes them his 'political and biological enemies'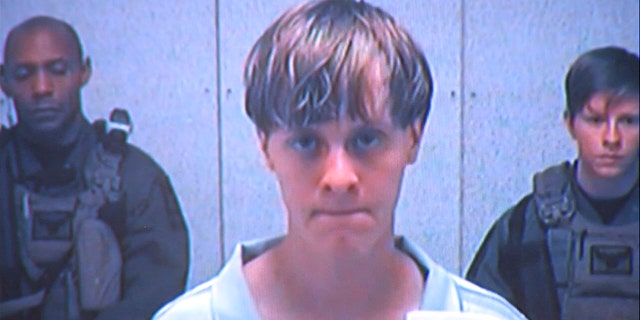 Convicted killer Dylann Roof has requested that new lawyers be appointed for his federal appeals case, saying the races of his current ones make them his "political and biological enemies."
Roof — who was sentenced to death in January for the murder of nine African-Americans after he went on a shooting spree in 2015 at Emanuel AME Church in Charleston S.C. — filed a hand-written request to the Fourth Circuit Court of Appeals on Monday, Fox Carolina reported.
"My two currently appointed attorneys, Alexandra Yates and Sapna Mirchandani, are Jewish and Indian respectively. It is therefore quite literally impossible that they and I could have the same interests relating to my case," he said in the court document obtained by Fox Carolina.
HOLLY BOBO MURDER TRIAL: PROSECUTORS DESCRIBE CHILLING DETAILS IN DEATH OF TENNESSEE NURSING STUDENT
He also referenced his earlier federal trial, during which he was convicted, saying that race was an issue then, too. His lawyer at the time was also Jewish.
"The lawyer appointed to represent me at my Federal trial was David Isaac Bruck, who is also Jewish. His ethnicity was a constant source of conflict even with my constant efforts to look past it," Roof wrote. "Because of my political views, which are arguably religious, it will be impossible for me to trust two attorneys that are my political and biological enemies. The difficulties during my trial are evidence of this."
During the federal trial, Roof and Bruck clashed over using evidence of mental illness as a defense, the Charleston Post and Courier reported. He ultimately was allowed to act as his own lawyer during the sentencing phase of his trial.
In a journal entry that was read aloud during the trial, Roof reportedly referred to psychology as "a Jewish invention" that "does nothing but invent diseases and tell people they have problems when they don't."
After Roof was permitted to act as his own defense, his lawyers wrote in a court filing they believed Roof was trying to avoid embarrassing testimony on his behalf, which was to be used in an attempt to have his life spared by the jury.