Durham bar hit with 'racism' boycott after refusing to serve Confederate statue protesters with invalid IDs
A group who recently toppled a Confederate statue in Durham, North Carolina has accused a "white owned bar" of racism and bombarded it with negative reviews after it refused to serve them alcohol with invalid IDs.
At least 11 members of the activist group calling itself "Defend Durham" were arrested last month after they removed a Confederate soldier monument near local government offices during a protest.
Among those arrested was Takiyah Thompson – a member of the communist Workers World Party and student at North Carolina Central University – who admitted to tying the rope on the Confederate monument that was used to pull it down.
She was charged with two felony and two misdemeanor charges.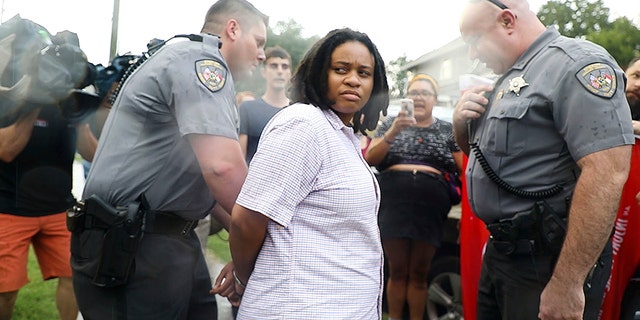 NEWYou can now listen to Fox News articles!
Nine out of the 11 arrested appeared in court earlier this week, prompting about a dozen people – most of whom were self-described "Black and Brown people" – to go out and celebrate "a tremendous day marked by a spirit of victory and struggle" and Thompson's birthday.
But the radical group ran into troubles that night, according to a Facebook post on Wednesday, that alleged one "white owned bar" refused to serve them alcohol because of their race and for toppling the statue.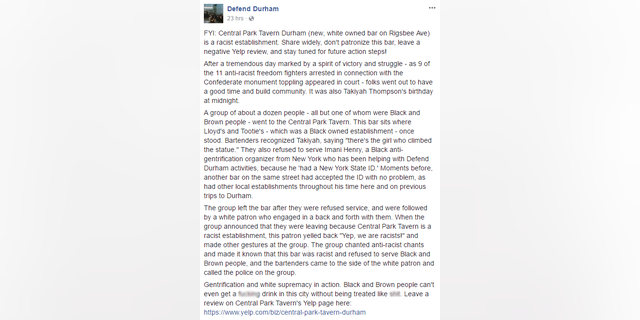 "Central Park Tavern Durham (new, white owned bar on Rigsbee Ave) is a racist establishment. Share widely, don't patronize this bar, leave a negative Yelp review, and stay tuned for future action steps!" the group said on social media, unleashing a barrage of negative reviews online about the bar.
The activists claimed the bar staff recognized Thompson, calling her "the girl who climbed the statue" and refused to serve alcohol to her.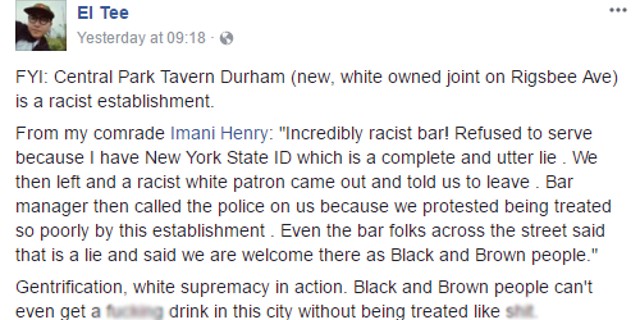 Imani Henry, a New York activist, was also reportedly refused service for having a New York State ID. "Incredibly racist bar! Refused to serve because I have New York State ID which is a complete and utter lie," he said, according to his post by his "comrade" Ngoc Loan Tran, who was arrested last month in connection with toppling the statue.
North Carolina has strict ID laws and does not recognize out-of-state identification cards as an acceptable form of identification to purchase alcohol.
The bunch described the night as "Gentrification and white supremacy in action," adding that "Black and Brown people can't even get a f------ drink in this city without being treated like s---."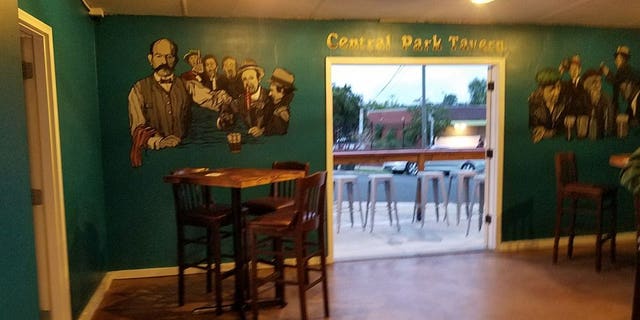 But the owner of Central Park Tavern, Michael Cole, has denied the account provided by the activists and dismissed the accusation of racism, saying he welcomes people from all backgrounds.
"I didn't know who they were," Cole told Fox News in a phone interview, adding he found out only later about the group being responsible for toppling down the statue.
"I'm having a party down here Saturday, hosting a party for the North Carolina Central University which is a predominantly black school," he said. "If I'm a racist I don't think I can have a black university having a party."
North Carolina Central University is a historically black college, where around 80 percent of students are African-Americans.
Cole said he is aware of the negative reviews being left on the Internet, but fired back against all the charges of bigotry. "They also said I hated gays and the following week I've got a lesbian wedding reception booked, so you tell me."
He explained the incident occurred because the group did not have valid IDs to serve them alcohol and as a new bar, he must follow the law.
"If you come to my bar and you're sixty-four years old and don't have a valid ID I'm not going to give you a drink. I'm sorry, it's just the law. We are brand new so have to abide the law," Cole told Fox News, noting that "they did not have a valid ID and that's why we refused service to them."