Drug lord 'Chapo' Guzman - 'Shorty' -requests booster seat for lawyer's visits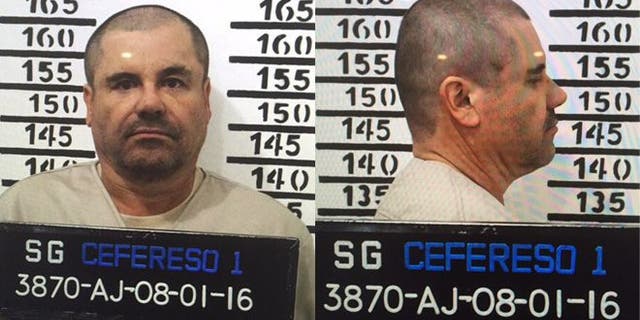 While complaints concerning drug lord Joaquin "El Chapo" Guzman's treatment in a U.S. federal prison keep mounting, here is a request that should be easy to grant: a booster seat for the 5'6" inmate, who claims he has to stand through his lawyer's entire visits in order to see him.
"The booth's window is too high," court papers say, according to the New York Daily News.
US PROSECUTORS OPPOSE EASING JAIL CONDITIONS FOR 'EL CHAPO'
According to the News, prison authorities have consented to give "Shorty" an elevated chair so "he can have a better look at the case materials being handled by his lawyers on the other side of the booth."
The lawyers argue that the booth issue is hampering the defense ability "to effectively review discovery with Mr. Guzman."
The Mexican drug kingpin, who twice escaped from maximum-security prisons in his country, was extradited to the U.S. in January and is being held at a high-security federal jail in Manhattan.
'EL CHAPO' GUZMAN'S HEALTH DECLINING, LAWYERS REQUESTING PRISON TRANSFER SAY
Guzman, 59, first escaped from prison in 2001 and then spent more than a decade on the run before he was recaptured, only to escape again in 2015 via a mile-long tunnel dug to the shower in his cell.
In the past few months his lawyers have complained that Guzman's jail conditions are so harsh that his health is deteriorating. He is kept indoors 24/7, locked in his cell for 23 hours a day, and no family visits are allowed.